A descriptive analysis of the characteristics and circumstances surrounding family and intimate partner homicide in Virginia, 2008.
Published by: Virginia Department of Health, Office of the Chief Medical Examiner. June, 2010. 57 pages.

2015 Virginia General Assembly legislative updates, including a few significant firearms bill vetoes. The bills that passed will become law as of 7/1/15. This Power Point is from a presentation by Susheela Varky to Virginia legal aid attorneys on June 3, 2015.
On July 1, the new law that prohibits persons subject to protective orders from possessing firearms will take effect. We have designed a brief FAQs sheet about the new law that provides some basic information on what the law does, what it doesn't do, and outlines conversations/issues that communities need to be talking about to come up with protocols. It also provides a link to some best practices.
DCJS has also put some information up on their site. This link has information on a recent brochure that DCJS developed on the new law, a list of law enforcement agencies who are willing to accept firearms, and a link to a new grant opportunity to fund pilot sites for implementing the new law. In short, there is not a statewide directive for implementation. Local courts, law enforcement, domestic violence programs and other stakeholders have to come together to come up with a plan for their locality.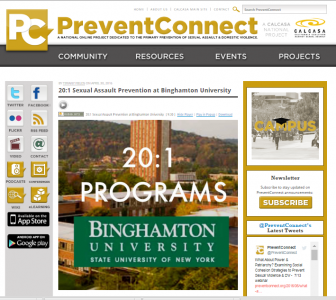 This 9:30 minute audio podcast by PreventConnect highlights the work done by Binghamton University in New York. The University has worked with Greek Life, Athletics, and a wide variety of students across the campus to implement the 20:1 sexual assault prevention and bystander intervention programs.
http://www.preventconnect.org/2016/04/201-sexual-assault-prevention-at-binghamton-university/
This is a Power Point describing some of the new laws as regards domestic and sexual violence that will become effective in Virginia as of 7/1/12.