Virginia's Healthcare Response to Sexual Assault Online Training Module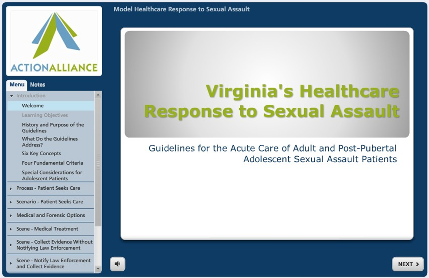 This online learning module on a model healthcare response to sexual assault has been made possible hrough a partnership with The Virginia Department of Health's Office of Family Health Services' Division of Prevention and Health Promotion and the Action Alliance. The training focuses on the Healthcare Guidelines for the Acute Care of Adult and Post-Pubertal Adolescent Sexual Assault Victims. The Guidelines provide comprehensive guidance to responding to sexual assault in a variety of healthcare settings.
Participants will be able to:
• Describe the history and purpose of the guidelines;
• Identify and describe the four fundamental criteria of a model healthcare response to a sexual assault;
• Thoughtfully address patient care priorities throughout a healthcare visit;
• Inform a sexual assault patient about medical, forensic and legal issues effectively to minimize further trauma and finally,
• Examine the collaborative relationships among hospitals, clinics, crisis centers and law enforcement to identify strengths and areas for improvement.
Continuing Medical Education and Continuing Education Credits are available through the Virginia Commonwealth University Health System Professional Education Programs.
To take the training click here. You will need to register for the training and launch the course through the Action Alliance Learning Management System. Please contact the Action Alliance at 804.377.0335 or training@vsdvalliance.org should you need assistance launching the course.
This training module and the continuing education credits were made possible by the Preventive Health and Human Services Block Grant number 704E23289 through the Virginia Department of Health.
Files