2015 Virginia General Assembly legislative updates, including a few significant firearms bill vetoes. The bills that passed will become law as of 7/1/15. This Power Point is from a presentation by Susheela Varky to Virginia legal aid attorneys on June 3, 2015.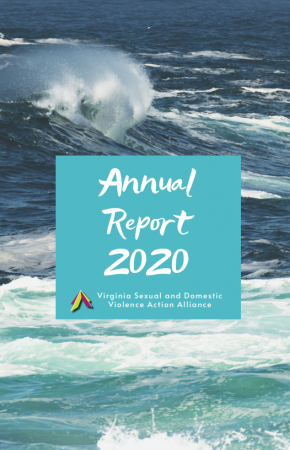 This is the Action Alliance's 2020 Annual Report. There have been so many things out of our control. This annual report illustrates our abilities to nimbly adapt to changing situations to meet members' needs; to pivot and shift services; to be and do better in our work to advance racial equity; and to build the foundations for a brighter future.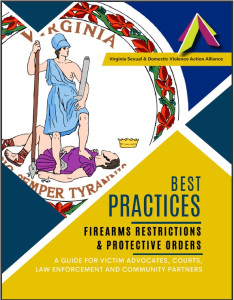 Recent changes in Virginia code pertaining to firearms, firearm restrictions, surrender of firearms, and new Substantial Risk Orders can substantially impact the lives and safety of survivors of intimate partner violence. To assist survivors in making decisions regarding petitioning for protective orders and with safety planning, it is essential that advocates are knowledgeable about both the legal remedies as they pertain to firearms and the processes and procedures in their communities for implementation of these new remedies.
The Virginia Domestic Violence and Firearms Workgroup worked with local, state, and national partners to create new resources to support implementation of firearms restrictions in communities across Virginia. The toolkit is intended to serve as a foundational resource for sexual and domestic violence advocates – in their work with survivors and communities – to maximize safety and to ensure compliance with Virginia law.
For more information on how to best use these tools and/or for technical assistance and training to support implementation in your community, please contact the Virginia Sexual & Domestic Violence Action Alliance at training@vsdvalliance.org.
To download this resource, click here.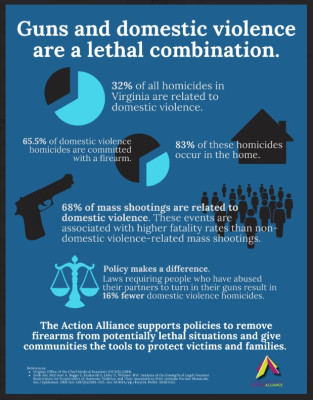 The Action Alliance supports policies to remove firearms from potentially lethal situations and give law enforcement officers, prosecutors, and courts tools to effectively enforce measures to protect victims, their families, and the broader community. This infographic highlights some of the ways that firearm-based violence and domestic violence intersect featuring statistical data from multiple resources.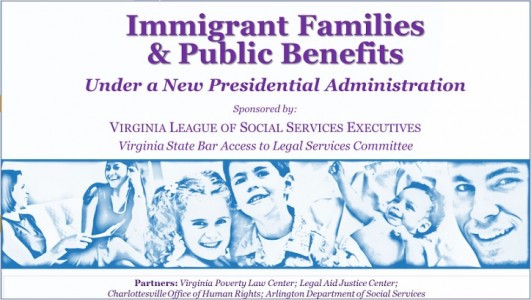 Recent changes to immigration enforcement have resulted in social services agencies across Virginia reporting decreased numbers of immigrant families requesting access to services. Some immigrant families even seek to withdraw their U.S.-born children from crucial benefits for which they are eligible due to fear of immigration enforcement. This PDF document is from a webinar given on March 31, 2017, to discuss changes in the immigration enforcement landscape, its impact on immigrant communities, immigrants' eligibility for public benefits for themselves and their U.S.-born children and strategies to encourage immigrant families to continue to access public benefits for which they are eligible. The webinar was sponsored by the Virginia League of Social Services Executives, Legal Aid Justice Center, Virginia Poverty Law Center and the Virginia State Bar Access to Justice Committee.