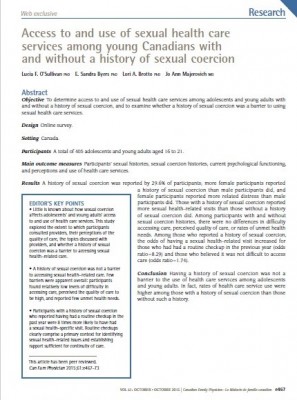 The goal of this 2015 online survey was to determine access to and use of sexual health care services among adolescents and young adults with and without a history of sexual coercion, and to examine whether a history of sexual coercion was a barrier to using sexual health care services.
The study ultimately found that having a history of sexual coercion was not a barrier to the use of health care services among adolescents and young adults. In fact, rates of health care service use were higher among those with a history of sexual coercion than those without such a history.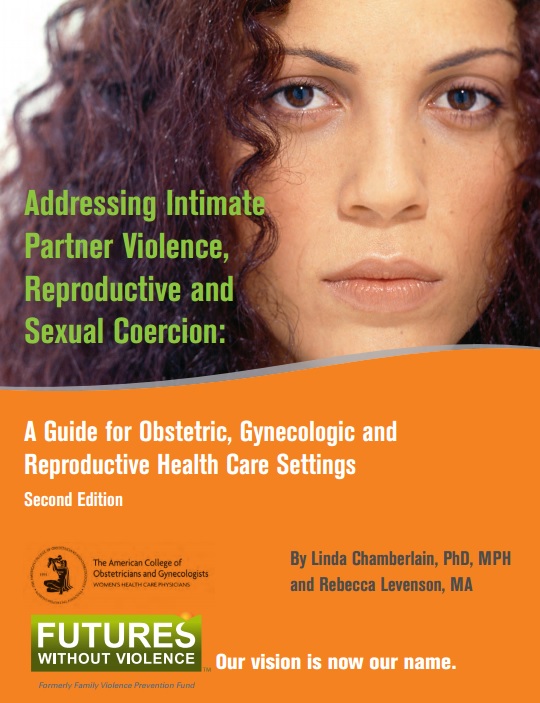 This new resource, Addressing Intimate Partner Violence Reproductive and Sexual Coercion, cobranded by The American College of Obstetricians and Gynecologists and
Futures Without Violence, focuses on the crucial role of the health care provider in identifying and addressing IPV and reproductive coercion.
This Power Point presentation was presented by Qullin Drew Musgrave and Liz Cascone from the Action Alliance at the Virginia Department of Social Services Office of Family Violence Promising Practices conference on September 16, 2013.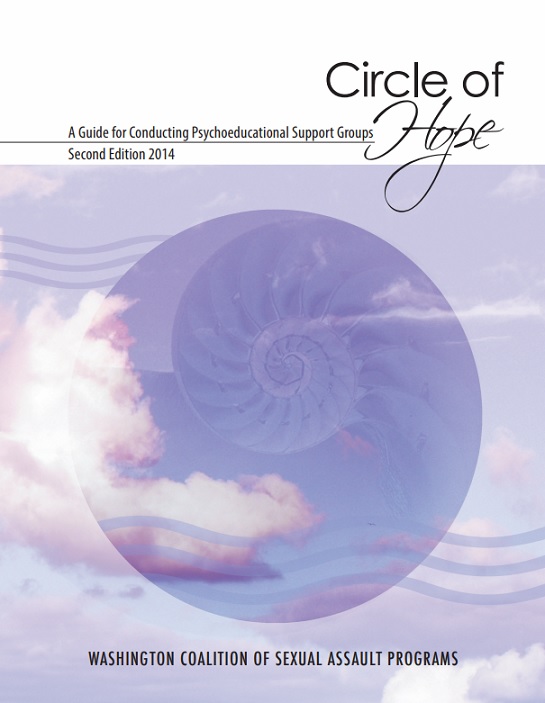 A particularly successful method for working with survivors of sexual assault and trauma is to bring survivors together in groups. Groups are an effective tool in giving hope and providing support, validation, connection, healing, and empathy. At the core of all sexual assault trauma is disempowerment and disconnection. To assist in recovery, empowerment and connection are key factors. It is amazing to witness the transformation that many survivors make because of these groups—because they realize they aren't alone, because they realize that people care, because they learn that it wasn't their fault, and because of the hope that comes through connection and validation. The relationships that members develop may be some of the most positive and supportive in their lives. Because these groups can have such a profound impact on survivors of sexual assault, it is vital that as advocates we possess the skills and knowledge to effectively facilitate groups. Hence, the purpose of this manual: to provide a roadmap of sorts, to navigate through the world of psychoeducational support groups.
From the Washington Coalition of Sexual Assault Program, this manual is considered a basic guide, written with beginner facilitators in mind. It offers practical guidance and recommendations for facilitation and design of psychoeducational support groups. The sources include existing research and literature about groups, the Office of Crime Victims Advocacy (OCVA) support group standards, and the experiences of those who participated in writing this manual. We encourage experienced group facilitators to add their own wisdom and experience to the information presented here as they conduct support groups.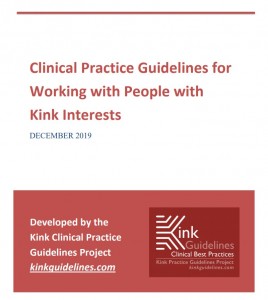 The lack of training and education about kink sexualities and the stigma attached to these interests have resulted in a lack of culturally competent treatment of this oppressed group. The gap calls for the clinical fields to address this unmet need as part of professional ethics and responsibility. Clinical practice guidelines assist healthcare practitioners by identifying high quality services and desirable professional practices. The Clinical Practice Guidelines for Working with People with Kink interests (hereafter referred to as "Kink Clinical Practice Guidelines") are intended to outline the knowledge, skills, and attitudes important for providing culturally competent care to the population of people who are involved in kink, both kink-identified patients and those involved in kink who do not adopt that identity. Clinical practice guidelines are recommendations, not mandatory requirements. The Kink Clinical Practice Guidelines are not standards of care, nor should they be used to exclude any healthcare provider from practicing in a particular area. The Kink Clinical Practice Guidelines are proposed to improve the care, and minimize harm to the kink community, an underserved
and vulnerable population.
Developed by the Kink Clinical Practice Guidelines Project, December 2019