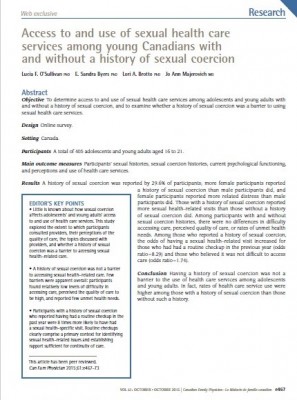 The goal of this 2015 online survey was to determine access to and use of sexual health care services among adolescents and young adults with and without a history of sexual coercion, and to examine whether a history of sexual coercion was a barrier to using sexual health care services.
The study ultimately found that having a history of sexual coercion was not a barrier to the use of health care services among adolescents and young adults. In fact, rates of health care service use were higher among those with a history of sexual coercion than those without such a history.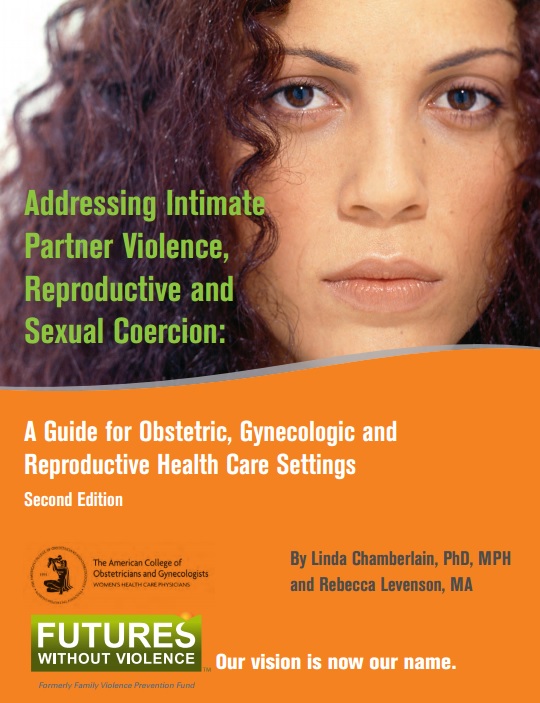 This new resource, Addressing Intimate Partner Violence Reproductive and Sexual Coercion, cobranded by The American College of Obstetricians and Gynecologists and
Futures Without Violence, focuses on the crucial role of the health care provider in identifying and addressing IPV and reproductive coercion.
This Power Point presentation was presented by Qullin Drew Musgrave and Liz Cascone from the Action Alliance at the Virginia Department of Social Services Office of Family Violence Promising Practices conference on September 16, 2013.
The purpose of the study was to examine the awareness and experience of rural community professionals in Virginia dealing with intimate partner violence (IPV) in later life. The reporting of IPV decreases as a survivor ages, but the problem does not go away. Unfortunately, incidences of IPV in older adults are often lumped into the broader category of elder abuse. This means that most community services are focused on alleviating abuse from adult children and caregivers.
The current article found: (1) many rural community professionals likely to interact with older survivors were not aware of IPV issues when the survivor first presents; (2) social norms and cultural values played a large role in viewing IPV among older survivors; and (3) collaboration across agencies usually occurred because of legal mandates and healthcare emergencies for the older survivors.
Published: 2015 in the Journal of Elder Abuse and Neglect
These tipsheets provide practical advice on creating trauma-informed services at domestic violence programs and working with survivors who are experiencing trauma symptoms and/or mental health conditions.
Recommended for domestic violence advocates:
A Trauma-Informed Approach to Domestic Violence Advocacy
Tips for Creating a Welcoming Environment
Tips for Enhancing Emotional Safety
Tips for Supporting Children and Youth Exposed to Domestic Violence: What You Might See and What You Can Do
Practical Tips for Increasing Access to Services
Tips for Discussing a Mental Health Referral with DV Survivors
Tips for Supporting Survivors with Reduced Energy
Tips for Making Connections with Survivors Experiencing Psychiatric Disabilities
A Trauma-Informed Approach to Employment Support: Tools for Practice