This FACT Issue Brief identifies forms of family violence and abuse faced by older adults and summarizes research on effective ways communities and households can identify and prevent further abuse. Promising strategies designed to protect the safety and security of the older adult population within the Commonwealth of Virginia are highlighted.
This handout was provided by Martha Kurgans, from the Department of Behavioral Health and Developmental Services, at the workshop titled "How Community Service Boards and Domestic Violence Programs Can Help Each Other" at the Virginia Department of Social Services Office of Family Violence Promising Practices conference on September 16, 2013.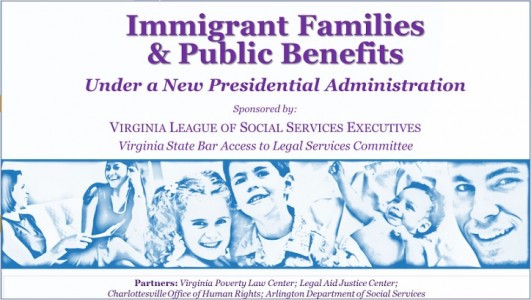 Recent changes to immigration enforcement have resulted in social services agencies across Virginia reporting decreased numbers of immigrant families requesting access to services. Some immigrant families even seek to withdraw their U.S.-born children from crucial benefits for which they are eligible due to fear of immigration enforcement. This PDF document is from a webinar given on March 31, 2017, to discuss changes in the immigration enforcement landscape, its impact on immigrant communities, immigrants' eligibility for public benefits for themselves and their U.S.-born children and strategies to encourage immigrant families to continue to access public benefits for which they are eligible. The webinar was sponsored by the Virginia League of Social Services Executives, Legal Aid Justice Center, Virginia Poverty Law Center and the Virginia State Bar Access to Justice Committee.
Sexual violence can result in many health, economic, and social struggles in the lives of survivors. This resource highlights findings from a 2015 study on sexual violence against Latina women. Findings can help strengthen our prevention and response strategies with Latin@ communities.
En Español: Esta traducción resume los principales hallazgos del estudio "La victimización de Violencia Sexual y de las asociaciones de la salud en una muestra de la comunidad de las mujeres hispanas," realizado por K. C. Basile, S.G. Smith, M.L. Walters, D.N. Fowler, K. Hawk y M.E. Hamburger. Los hallazgos del estudio se basan en nuestra comprensión de los efectos de la violencia sexual en mujeres latinas y pueden orientar nuestras estrategias tanto de prevención de la violencia sexual como de respuesta a ésta.
Victims of sexual violence can experience a range of negative health outcomes over the course of their lives. A substantive body of research finds that individuals can experience physical, mental, and behavioral health impacts well beyond the duration of the event(s). Less is known, however, about particular consequences and life contexts of Black/African American women who have been victimized.
Basile, Smith, Fowler, Walters, and Hamburger (2016) offer a window into the lived experiences of African American women in Sexual violence victimization and associations with health in a community sample of African American women. This study is part of a larger effort to better understand the context surrounding the findings that women of color experience sexual violence at a much higher rate than White women (Breiding et al., 2014; Tjaden & Thoennes, 2006). This research translation summarizes the article's key findings to help support sexual violence prevention and response strategies with Black and African American communities.