Esta traducción resume los principales hallazgos del estudio "La victimización de Violencia Sexual y de las asociaciones de la salud en una muestra de la comunidad de las mujeres hispanas," realizado por K. C. Basile, S.G. Smith, M.L. Walters, D.N. Fowler, K. Hawk y M.E. Hamburger. Los hallazgos del estudio se basan en nuestra comprensión de los efectos de la violencia sexual en mujeres latinas y pueden orientar nuestras estrategias tanto de prevención de la violencia sexual como de respuesta a ésta.
En Ingles: Sexual violence can result in many health, economic, and social struggles in the lives of survivors. This resource highlights findings from a 2015 study on sexual violence against Latina women. Findings can help strengthen our prevention and response strategies with Latin@ communities.
While the global maternal mortality rate (MMR) decreased by 36.6 percent between 2000 and 2015, the U.S. MMR increased by 16.6 percent. The United States was one of six countries and the only developed country to see an increase in maternal mortality during this time period.
To learn more, check out the infographic below designed by Bradley University's online Master of Science in Nursing program.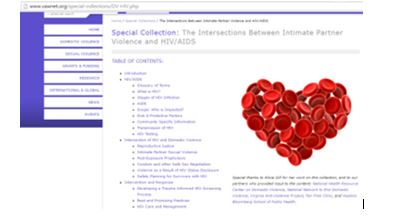 The National Online Resource Center on Violence Against Women has compiled a Special Collections series on the Intersections Between Intimate Partner Violence and HIV/AIDS. The Special Collection series includes terms and definitions, impact on at-risk populations, where to get tested, and the various articles discussing the intersection of intimate partner violence and HIV/AIDS.
http://www.vawnet.org/special-collections/DV-HIV.php

This brochure is for trans people who are interested in learning more about their birth control options. The brochure includes questions for providers, things to consider, and frequently asked questions about fertility and transitioning.
Published by the Virginia Sexual & Domestic Violence Action Alliance and the Virginia League for Planned Parenthood.
Tri-fold brochure.
This VAWnet webinar provides information on the impact of trauma in pregnancy and childbirth, and outlines how a partnership between advocates and birth workers in the community may be of benefit to pregnant survivors of domestic or sexual violence. Together, victim advocacy and doula skills can set in motion a new beginning for healthier relationships between survivors of abuse and their newborns.
http://www.vawnet.org/summary.php?doc_id=4511&find_type=web_desc_TT