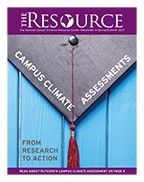 The Spring/Summer 2017 edition of The Resource includes the following stories:
Rutgers University's campus climate assessment process
The new multimedia campaign #LoveWITHAccountability for child incest and sexual abuse survivors of African descent
The uSafeNH app that provides information about services and support for survivors in New Hampshire
The basics of evaluating prevention work through social media from the Michigan Public Health Institute
The Raliance media summit and RALLYs awards
Also included is a look at RESTORE Sexual Assault Service's prevention work in New York, a spotlight on Iowa's service transition, and four resources from the library that might interest you.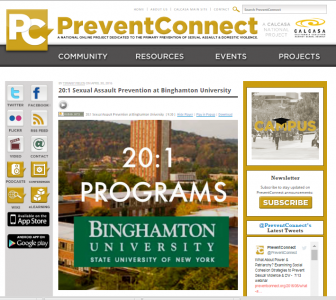 This 9:30 minute audio podcast by PreventConnect highlights the work done by Binghamton University in New York. The University has worked with Greek Life, Athletics, and a wide variety of students across the campus to implement the 20:1 sexual assault prevention and bystander intervention programs.
http://www.preventconnect.org/2016/04/201-sexual-assault-prevention-at-binghamton-university/
This webinar, originally broacast in 2015 and presented by the Action Alliance's own Kate McCord, was designed for aspiring white allies interested in deepening their understanding of the connections between racial justice work and domestic and sexual violence intervention and prevention work. Topics included: how disparities created by institutional and systemic expressions of racism may affect survivors of color, why an intersectional approach is integral to a trauma-informed response and building trauma-informed prevention programs, and specific examples of how the Virginia Sexual and Domestic Violence Action Alliance has integrated a racial justice lens into various aspects of our work.
Click here to view the webinar.

A trafficking assessment for frontline professionals to identify and assist potential victims of trafficking. This assessment is inclusive of both labor and sex trafficking.
In 2009, the Code of Virginia was amended to mandate local sexual response teams (SARTs). As part of a national initiative to explore the impact of mandates on the formation, performance, and efficacy of SARTs, in 2016 the Virginia Department of Criminal Justice Services (DCJS) partnered with the Sexual Violence Justice Institute (SVJI) to explore the mandate's implications and gain insight into what SART ecosystems need to become strong and effective. The results of the project were documented in a report titled Cultivating SART Efficacy: Insights on the Impact of the Virginia Sexual Assault Response Team Mandate. The report highlights the ripple effects of the mandate's passing, lingering questions, and insights and ideas for resources to support SART growth, strength, and sustained success.
TO VIEW THE RECORDED WEBINAR, CLICK HERE. (You will be required to "register" before viewing the recording)
Topics addressed:
· Impact of the mandate on the growth of Virginia SARTs
· Impact of the mandate on SART efficacy
· Challenges of mandate implementation
· Other notable events that occurred as a result of the mandate
· 7 Elements of a healthy SART Ecosystem
· Considerations and resources for enhancing SARTs
For More Information, Contact:
Jennifer Kline
(804) 225-3456
Kristina Vadas
(804) 786-7802