2015 Virginia General Assembly legislative updates, including a few significant firearms bill vetoes. The bills that passed will become law as of 7/1/15. This Power Point is from a presentation by Susheela Varky to Virginia legal aid attorneys on June 3, 2015.
On July 1, the new law that prohibits persons subject to protective orders from possessing firearms will take effect. We have designed a brief FAQs sheet about the new law that provides some basic information on what the law does, what it doesn't do, and outlines conversations/issues that communities need to be talking about to come up with protocols. It also provides a link to some best practices.
DCJS has also put some information up on their site. This link has information on a recent brochure that DCJS developed on the new law, a list of law enforcement agencies who are willing to accept firearms, and a link to a new grant opportunity to fund pilot sites for implementing the new law. In short, there is not a statewide directive for implementation. Local courts, law enforcement, domestic violence programs and other stakeholders have to come together to come up with a plan for their locality.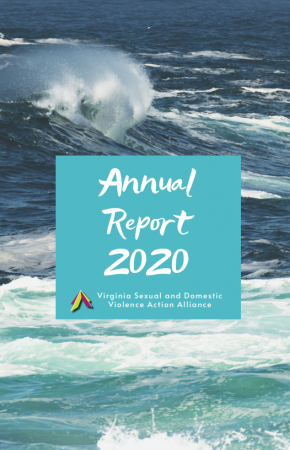 This is the Action Alliance's 2020 Annual Report. There have been so many things out of our control. This annual report illustrates our abilities to nimbly adapt to changing situations to meet members' needs; to pivot and shift services; to be and do better in our work to advance racial equity; and to build the foundations for a brighter future.
This is a Power Point describing some of the new laws as regards domestic and sexual violence that will become effective in Virginia as of 7/1/12.
The Victims Services Section of the Virginia Department of Criminal Justice Services (DCJS) conducted this project with a grant from the United States Department of Justice, Office on Violence Against Women. The purpose of this project was to study the effectiveness of Virginia's Family Violence Arrest Laws, implemented in 1997, use the information gathered to revise the domestic violence curriculum for law enforcement in Virginia, and update the Sample Directives Manual General Order 2-32 (the model domestic violence policy for Virginia law enforcement agencies). Published by DCJS June 2004.