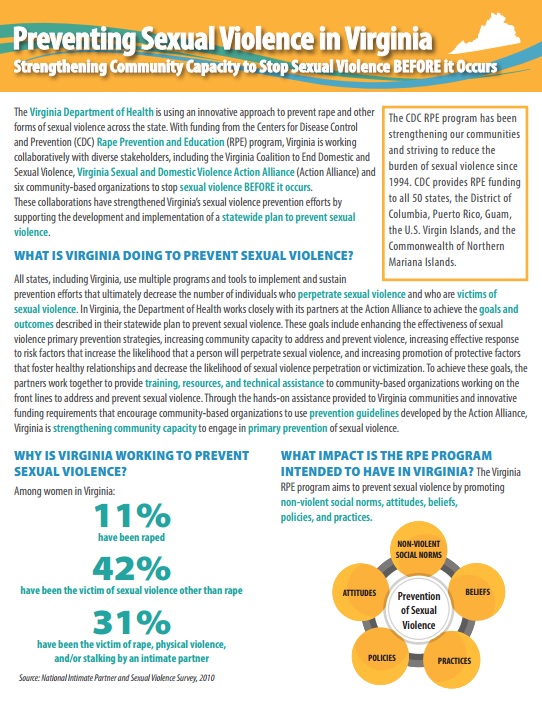 With funding from the Centers for Disease Control and Prevention (CDC) Rape Prevention and Education (RPE) program, all 50 states, the District of Columbia, Puerto Rico, Guam, the U.S. Virgin Islands and the Commonwealth of Northern Mariana Islands are working across the country to implement a comprehensive set of activities to stop sexual violence BEFORE it occurs.
Using a storytelling approach and colorful infographics, the Stories from the Field provide a unique way to communicate the important work of state RPE programs and the benefit to their respective communities. The 20 Stories from the Field represent a sample of the critical efforts underway across the country to prevent sexual violence.
Click here for other state and territories.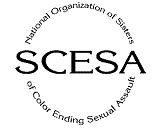 Sisters of Color Ending Sexual Assault - SCESA's overall fundamental principal is to give voice and develop action strategies that incorporate and address the multiple layers of discrimination that are faced by Women of Color and Communities of Color.
Researchers from the Department of Veterans Affairs (VA) and Department of Defense (DOD) recently released findings of a new study called Prospective Post-Traumatic Stress disorder Symptom Trajectories in Active Duty and Separated Military Personnel, which examines Post Traumatic Stress Disorder (PTSD) symptoms in Veterans, compared with active-duty populations.
This is the first known study comparing PTSD symptom trajectories of current service members with those of Veterans, and is the product of a collaborative effort from VA and DOD researchers analyzing data from the Millennium Cohort Study (MCS), the largest prospective health study of military service members.
To learn more about the study itself, click here.

VAWnet is a resource library with to thousands of materials on violence against women and related issues, with particular attention to its intersections with various forms of oppression. Here you'll find resources on domestic violence, sexual violence, funding, research, and international issues. You'll also find news, announcements, and events related to the work of the movement and related fields of practice. From the comprehensive lists of resources found in Special Collections to the concise interpretations of current research in our peer-reviewed Applied Research Papers, VAWnet has a variety of formats and material types to offer.
The Women of Color Network (WOCN) is a national grassroots initiative dedicated to building the capacity of women of color advocates and activists responding to violence against women in communities of color. Through trainings, technical assistance, and advocacy, WOCN helps foster women of color in the advancement of their anti-violence work and leadership.