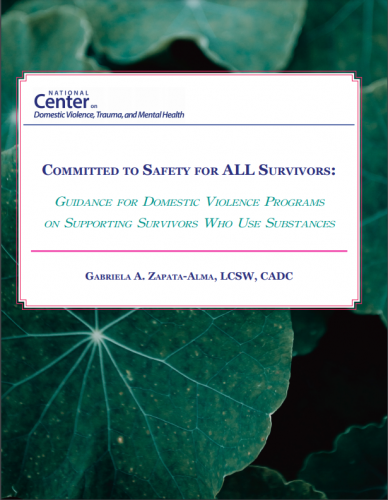 Domestic and sexual violence can have significant effects on one's health and mental health, including increased risk for substance use concerns. In addition to using substances in order to cope with experiences of violence, survivors of substance use coercion may also be coerced to use substances, face increased violence if they do not use substances, and have their attempts to engage in treatment and recovery sabotaged by an intimate partner or ex-partner. At the same time, many advocates feel unprepared to help survivors address concerns related to substance use and substance use coercion, resulting in increased barriers and risk of revictimization.
Committed to Safety for ALL Survivors assists programs and advocates in supporting survivors who use substances by providing practical strategies embedded within an accessible, culturally responsive, and trauma-informed (ACRTI) approach.
Download the guidance document below, or for additional resources, visit The National Center on Domestic Violence, Trauma, and Mental Health (NCDVTMH).

The National Coalition of Anti-Violence Programs research has shown that LGBTQ people of color are especially vulnerable to violence in intimate partner relationships. As LGBTQ people of color belong to multiple marginalized communities, it is even more dicult for these survivors to access services due to historical and institutional barriers along with personal and cultural challenges; where services do exist, they may not be culturally arming and relevant to the lived experiences of LGBTQ communities of color.
Raising awareness and education about an issue is one of the first steps to mobilizing and organizing communities to action. This toolkit was designed to provide our communities with strategies to create dialogue on intimate partner violence in communities of color, ways to support survivors, and identify resources for intimate partner violence.

A trafficking assessment for frontline professionals to identify and assist potential victims of trafficking. This assessment is inclusive of both labor and sex trafficking.
This policy addresses the best practices for four-year colleges and universities regarding enrollment, policy implementation, admissions, programs, facilities, safety, and so much more. To create this policy, Trans Student Educational Resources consulted with dozens of students, community members, and faculty over the course of a year. The policy language in this document has been written so it can easily be copied and enacted by the appropriate governing council of each institution.
For more, visit the Trans Student Educational Resources website here.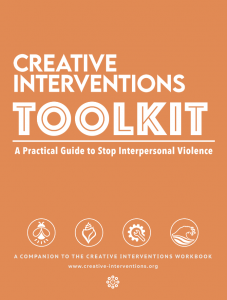 Creative Interventions was founded to shift education and resources back to families and communities. Established in 2004, the project aimed to place knowledge and power among those most impacted by violence. Creative Interventions sought to make support and safety more accessible, stop violence at early stages of abuse, and create possibilities for once abusive individuals and communities to evolve towards healthy change and transformation.
In their words:
"This Toolkit the result of a 3-year period from 2006 to 2009 during which CI joined with partner organizations in the San Francisco Bay Area including Asian Women's Shelter, Shimtuh, Narika, and La Clinica de la Raza. We also had partnerships with other individuals and organizations such as those listed in Section 0.2: A Community Effort. Our organizations worked closely together to create a different, alternative approach to issues of domestic violence and sexual assault. All of our organizations have years of experience working in mostly immigrant communities on the issues of domestic violence and sexual assault. And all were interested in coming together to try to create different options for people experiencing violence. The 3-year project that we called the Community-Based Interventions Project brought our team together to create a new vision for violence intervention, to work with people experiencing violence, and to develop a model and tools from our work during that time."
Check out these toolkits developed by people who want to end the cycle of violence in our communities and our world. The 500+ page toolkits are available for download in English and Spanish but clicking the links below. Additional resources are available by visiting the Toolkits section of their website.