A trafficking assessment for frontline professionals to identify and assist potential victims of trafficking. This assessment is inclusive of both labor and sex trafficking.
This policy addresses the best practices for four-year colleges and universities regarding enrollment, policy implementation, admissions, programs, facilities, safety, and so much more. To create this policy, Trans Student Educational Resources consulted with dozens of students, community members, and faculty over the course of a year. The policy language in this document has been written so it can easily be copied and enacted by the appropriate governing council of each institution.
For more, visit the Trans Student Educational Resources website here.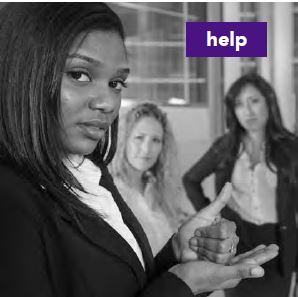 This policy and practice brief summarizes the findings from work with the Deaf community and offers practical suggestions for increasing Deaf survivors' access to victim services and other supports, including those offered by the criminal justice and medical systems. This information providse a framework for meeting the needs of Deaf survivors that is grounded in the cultural and linguistic needs of this community. It will also ground policymakers, practitioners, and first responders in the victim services field in the realities of this often-overlooked community.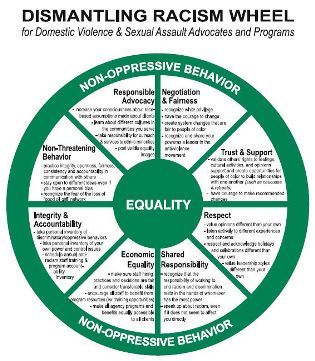 Two wheels created by the Women of Color Caucus and Social Justice Task Force of the Virginia Sexual and Domestic Violence Action Alliance. These wheels were created in the tradition of the Power and Control Wheel created by the Domestic Abuse Intervention Programs of Duluth, Minnesota. The Perpetuating Racism Wheel demonstrates how agencies might use power and control to perpetuate racism. The Dismangling Racism Wheel demonstrates how agencies can use principles of equaliaty to dismantle racism within their agencies.
Within the DV movement, our dedication to that first and most elemental step—ensuring that there is a route toward safety—is reflected in our decades long commitment to building and protecting emergency shelter capacity. Yet today, some communities are implementing new service models less reliant on emergency shelter as survivors' primary gateway to domestic violence advocacy and aimed instead at being more responsive to the specific needs of each survivor. And some shelters are closing their doors. Is this a sign that we are losing ground—or that we are becoming more flexible?
A change from the traditional communal living shelters, which are important and cherished programs, is gut-wrenching for many of us. However, in many ways it's our success that has brought us to this important juncture as a movement and opened the way to a re-envisioning of the work ahead. Having created more avenues to basic safety in many communities, we can turn our focus to developing new approaches to assisting survivors who are still isolated from help or who need resources other than emergency services.