Safety is a primary concern for domestic violence shelters. New technology has created opportunities for safety to be compromised. However, technology also provides many ways for all of us to communicate and stay in contact with our family, friends, and others in our social network and has become part of our everyday lives. This document offers domestic violence advocates guidance on integrating discussions about technology into their safety planning with residents of the domestic violence shelter, as well as with survivors receiving non-residential services.
Final Report on domestic violence fatality review with recommendations from The Fatal Domestic Violence Workgroup.
Published: December, 2010
This report is a product of Virginia Department of Health's Office of the Chief Medical Examiner's Domestic Violence Fatality Review Project. For more information, visit: http://www.vdh.state.va.us/medexam/dvfr/index.htm#Intro
Text messaging has become a quick and convenient communication tool to relay short, simple messages, or provide limited timely information. In places that have limited cell service or cell tower signal strength, text messages may be more reliable than connecting through cell phone voice services. However, there are safety, privacy, and confidentiality issues associated with using text messaging that need considered.
Check out this blog from the National Network to End Domestic Violence (NNEDV) on suggested best practices to maintain safety, privacy, and confidentiality.
The Action Alliance is dedicated to enhancing Virginia's response to and prevention of sexual and domestic violence through public policy. This infographic highlights a few of our public policy priorities for the next five years.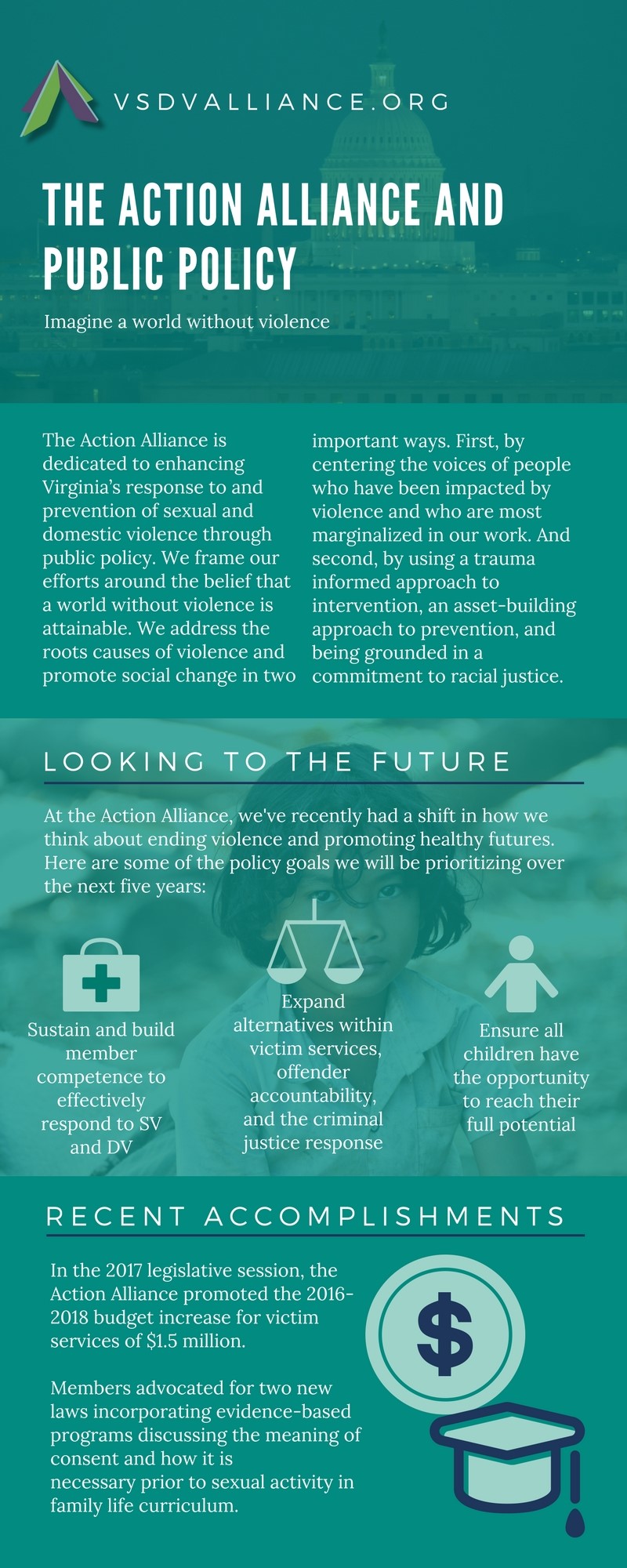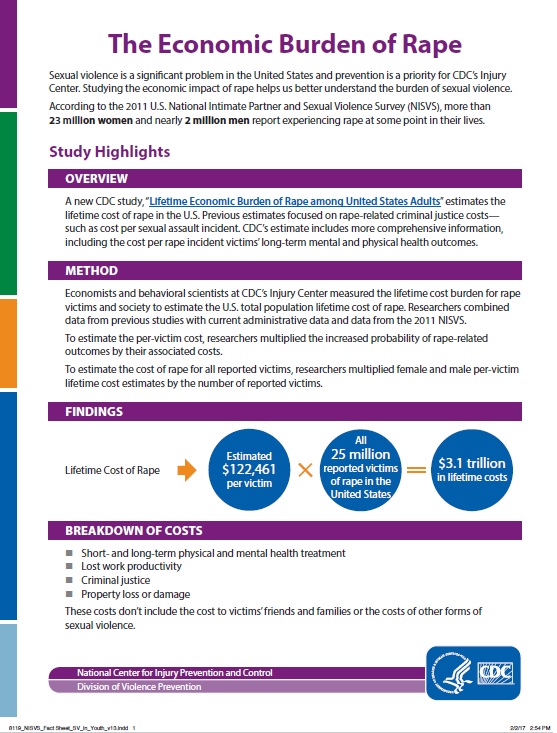 Sexual violence is a significant problem in the United States and prevention is a priority for CDC's Injury Center. Studying the economic impact of rape helps us better understand the burden of sexual violence. According to the 2011 U.S. National Intimate Partner and Sexual Violence Survey (NISVS), more than 23 million women and nearly 2 million men report experiencing rape at some point in their lives.
A new CDC study, "Lifetime Economic Burden of Rape among United States Adults" estimates the lifetime cost of rape in the U.S. Previous estimates focused on rape-related criminal justice costs—such as cost per sexual assault incident. CDC's estimate includes more comprehensive information, including the cost per rape incident victims' long-term mental and physical health outcomes.
Click below to download the report of the study or the summary infographic.