The Virginia Violent Death Reporting System has produced two recent reports on violent death in Virginia: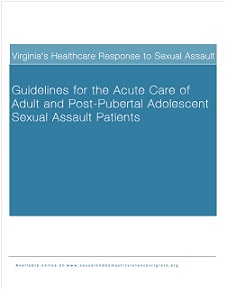 Guidelines for the Acute Care of Adult and Post-Pubertal Adolescent Sexual Assault Patients
The document incorporates recommendations from professionals across Virginia, as well as information from current guidelines from relevant state and national resources on the management of sexual assault patients and the collection of forensic evidence. The guidelines provide a framework for the critical role of the healthcare sector in meeting the needs of sexual assault patients and the criminal justice system. They are organized around four fundamental criteria and were developed to address the healthcare response at the community, facility, and individual levels.
While these guidelines were developed specifically for healthcare professionals and facilities, the healthcare sector is just one component of a comprehensive response to sexual violence. These guidelines will also be a valuable component of statewide efforts to establish coordinated, collaborative, and compassionate responses to sexual violence in every community in Virginia. Published by Virginia Sexual and Domestic Violence Action Alliance and Virginia Chapter of the International Association of Forensic Nurses December 2009. 127 pages.
On July 1, 2013, Virginia enacted legislation that provides a procedure health care providers may use to evaluate incapacitated patients who may have been sexually assaulted (see § 54.1-2970.1 below). The legislation is intended to be used when a sexual assault examination and physical evidence recovery is prudent, but the adult patient is unable to consent and timeliness of evidence collection is crucial prior to destruction by medical interventions or bodily functions. The law outlines specific procedures and criteria that must be met in order to allow the examination and evidence recovery without the patient's consent. In November, an addendum to the Healthcare Guidelines was released to provide guidance to healthcare professionals on the use of this new process. It is expected that the new consent process will be infrequently used, as consent for the sexual assault examination and physical evidence recovery may be obtained from next of kin, guardians, or from the patient after the patient regains the capacity to consent following temporary incapacity.
The Eductional Fund to Stop Gun Violence recently issued an overview of policy issues surrounding fatal domestic violence involving firearms in Virginia. The full report can be found here.
Get tips about creating materials that are accessible to everyone you work with. Learn "Why A Transcript Is Not Enough To Make Your Videos Compliant With Accessibility Laws" in this blog by 3PlayMedia.
From the National Sexual Violence Resource Center, the tools in this project will help you understand how male socialization impacts the stigma and reaction to sexual violence. They will help you consider how to reach and engage men who need healing from sexual violence. They will help you map out potential partnerships in your service area. Finally, they will give you guidance on creating sexual assault services that meet the needs of male survivors.
Why men?
"We know that sexual violence impacts people of all genders and backgrounds. There are men who commit acts of sexual violence. Men can play an important role in interrupting sexual harassment and inappropriate behaviors. And in addition to these important truths, it is also vital that we recognize that men experience sexual violence and need healing."
NSVRC's Resources on Working with Male Survivors

Assessing Our Capacity for Serving Male Survivors of Sexual Violence - Assessment tool
Sexual assault advocates and rape crisis centers can use this self-assessment tool to reflect on your current work serving men who have had unwanted sexual experiences. The tool offers reflection questions related to individual and organizational capacity to serve male survivors.
How often are men sexually harassed or assaulted? - Infographic
In this infographic, we provide statistics on the prevalence of sexual violence for men.
How We Talk About Working with Male Survivors of Sexual Assault, Harassment, and Abuse - Print publication
This resource suggests how you can communicate about sexual violence as something that men experience and about what services are available for survivors, including men.
Lessons on Serving Male Survivors Through Sexual Assault Services Program - Print publication
A resource containing lessons learned from sexual assault services programs with comparatively high percentages of male survivors served with that funding stream. An accompanying blog series highlights in more depth what programs told us about their work: see blog one, blog two, and blog three.
Sexual Victimization of Men: What the Research Says - Annotated bibliography
This annotated bibliography provides descriptions of recent research related to sexual victimization of men. It provides an overview of sexual assault, harassment, and abuse experienced by diverse populations of men in a variety of settings.
Who are male survivors of sexual harassment and assault? - Infographic
Men who survive sexual violence come from many different backgrounds and communities. In this infographic, we share statistics on the race, ethnicity, sexual orientation, gender identity, and disabilities of men who have experienced sexual assault.
Working with Male Survivors Podcast Series - Podcasts
This series from our podcast Resource on the Go includes conversations from across the field on working with male survivors of sexual violence. Topics include understanding expressions of trauma in men, working with formerly incarcerated male survivors, services for transgender male survivors and transmasculine survivors, and much more.
For additional resources, visit the NSVRC's toolkit webpage by clicking here.