The National Coalition of Anti-Violence Programs research has shown that LGBTQ people of color are especially vulnerable to violence in intimate partner relationships. As LGBTQ people of color belong to multiple marginalized communities, it is even more dicult for these survivors to access services due to historical and institutional barriers along with personal and cultural challenges; where services do exist, they may not be culturally arming and relevant to the lived experiences of LGBTQ communities of color.
Raising awareness and education about an issue is one of the first steps to mobilizing and organizing communities to action. This toolkit was designed to provide our communities with strategies to create dialogue on intimate partner violence in communities of color, ways to support survivors, and identify resources for intimate partner violence.
This handout was provided by Linda Swimm, a private practice therapist, at the workshop titled "Children's Services" at the Virginia Department of Social Services Office of Family Violence Promising Practices conference held on September 16, 2013.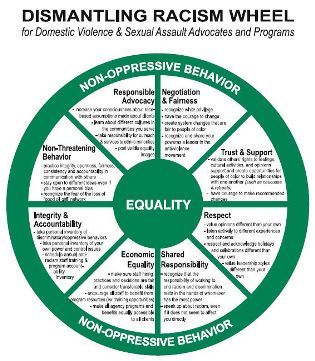 Two wheels created by the Women of Color Caucus and Social Justice Task Force of the Virginia Sexual and Domestic Violence Action Alliance. These wheels were created in the tradition of the Power and Control Wheel created by the Domestic Abuse Intervention Programs of Duluth, Minnesota. The Perpetuating Racism Wheel demonstrates how agencies might use power and control to perpetuate racism. The Dismangling Racism Wheel demonstrates how agencies can use principles of equaliaty to dismantle racism within their agencies.
The Commonwealth currently has seventeen local and regional domestic violence fatality review teams. Teams are multidisciplinary, and through stakeholder participation, they review homicides, suicides, and homicide-suicide cases related to domestic violence. For more information on domestic violence fatality review in Virginia, please visit: http://www.vdh.state.va.us/medExam/dvfr/index.htm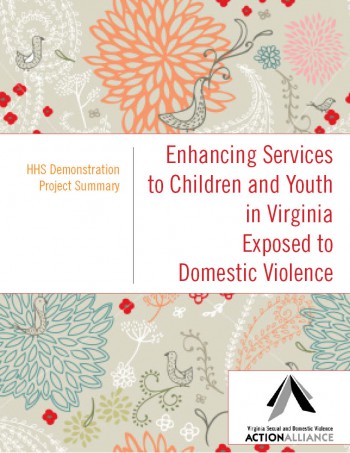 A report on a 2-year (2006-2008) demonstration project funded by the Family Violence Prevention and Services Program.
Published by Virginia Sexual & Domestic VIolence Action Alliance, 2009.
56 pages.