Use of Surveillance Cameras Inside Shelters Run by SDVAs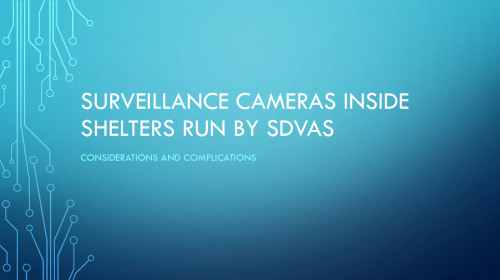 Across the U.S., there has been an increase in the use of video camera surveillance. Individuals are using these in their homes or just outside of the home to deter crime or monitor their homes while away. As with any technology, there are empowering uses and risks.
Recently, the National Network to End Domestic Violence (NNEDV), a partner and technical assistance provider for the Action Alliance, notified us that they have been receiving requests for information about the use of surveillance cameras inside shelter spaces. We have created some rough guidance for you based on
Virginia-specific laws (where applicable) and the experiences of Action Alliance staff to help you determine if this is the right path for your agency to take.
To view the recorded webinar, follow this link. For additional resources, see below.
Files
Use of Surveillance Cameras Inside Shelters - Document

Download


Use of Surveillance Cameras Inside Shelters - Power Point slides

Download

Related Resources