TOD@S (Transforming Ourselves through Dialogue, Organizing, and Services) is an interagency collaboration between The Hispanic Black Gay Coalition, The Violence Recovery Program at Fenway Health, The Network / La Red, and Renewal House (a program of the Unitarian Universalist Urban Ministry) in Boston, Massachusetts. Their mission is to improve and increase access to intervention and prevention services for Black and Latin@ lesbian, gay, bisexual, transgender, and queer (LGBTQ) people affected by partner abuse.
They have created a Community Needs Assessment and Action Plan as well as a training for community service providers.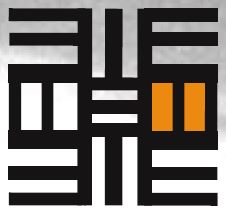 The Safe Return Initiative focuses on strengthening domestic violence services for African American women and their children when they are facing the return of an intimate partner from prison. It does this by building culturally specific technical capacity within and cooperation among justice institutions and community-based and faith-based organizations. Its goals are to keep women and their children safe and improve the odds of successful reentry by offering peer-based learning, training, information sharing, and on-site assistance designed to help criminal justice and community-based
organizations better serve African Americans dealing with prisoner reentry.

This four page document outlines specific information on the broad range of offenses perpetrated against people age 60 and beyond, and discusses how advocates can respond to the special needs of older sexual violence victims.
Published by Supreme Court of Virginia, Office of Executive Secretary April 2009.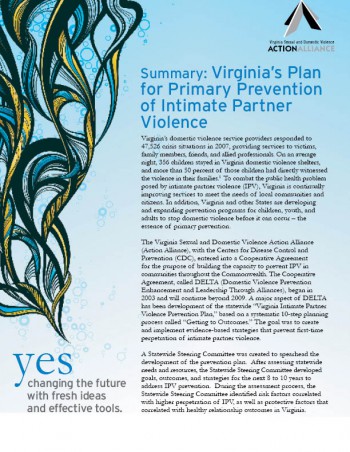 The Virginia Sexual and Domestic Violence Action Alliance (Action Alliance), with the Centers for Disease Control and Prevention (CDC), entered into a Cooperative Agreement for the purpose of building capacity to prevent IPV in communities throughout the Commonwealth. The Cooperative Agreement, called DELTA (Domestic Violence Prevention Enhancement and Leadership Through Alliances), began in 2003 and continues today.
A major aspect of DELTA has been development of the statewide "Virginia Intimate Partner Violence Prevention Plan," based on a systematic 10-step planning process called "Getting to Outcomes." The goal was to create and implement evidence-based strategies that prevent first-time perpetration of intimate partner violence. This document summarizes the 5 goals developed during the planning process.
Published by Virginia Sexual & Domestic Violence Action Alliance. 2009.
4 pages.