This timely and important webinar produced by National Resource Center to Enhance Safety of Native Women and their Children will provide an overview of what is known about the opioid epidemic and will focus on the specific concerns of Indian communities and tribal domestic violence programs and shelters. It will lay the foundation for the exploding opioid epidemic and will examine the intersections between trauma, domestic violence and the opioid epidemic and explore innovative approaches to addressing these complex issues.
Click here to view the webinar.
From Hurt to Hope: A Child Sexual Abuse/Assault Advocacy Guide: A guide from WCSAP (Washington Coalition of Sexual Assault Programs) that provides foundational knowledge of best practices for advocates working with youth and their caregivers. The guide includes an overview of Child sexual Abuse/assault, general advocacy, medical advocacy, legal advocacy, system's coordination, information and referral, and crisis intervention.
This handout was provided by Martha Kurgans, from the Department of Behavioral Health and Developmental Services, at the workshop titled "How Community Service Boards and Domestic Violence Programs Can Help Each Other" at the Virginia Department of Social Services Office of Family Violence Promising Practices conference on September 16, 2013.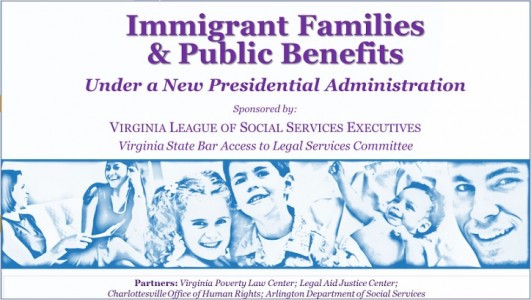 Recent changes to immigration enforcement have resulted in social services agencies across Virginia reporting decreased numbers of immigrant families requesting access to services. Some immigrant families even seek to withdraw their U.S.-born children from crucial benefits for which they are eligible due to fear of immigration enforcement. This PDF document is from a webinar given on March 31, 2017, to discuss changes in the immigration enforcement landscape, its impact on immigrant communities, immigrants' eligibility for public benefits for themselves and their U.S.-born children and strategies to encourage immigrant families to continue to access public benefits for which they are eligible. The webinar was sponsored by the Virginia League of Social Services Executives, Legal Aid Justice Center, Virginia Poverty Law Center and the Virginia State Bar Access to Justice Committee.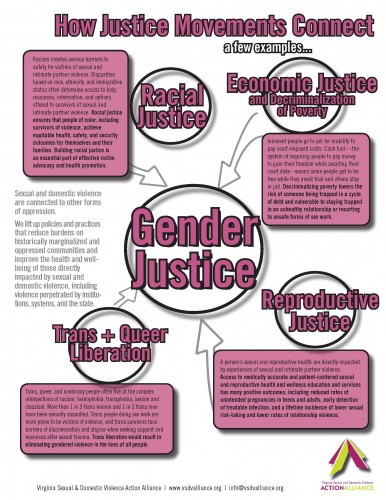 Gender-based violence (or the process of controlling, coercing, or otherwise exerting power over someone because of their gender) is both a tool and a driver of white supremacy. Ending gender-based violence requires us to see and dismantle the same forces that support the existence of white supremacy. At the same time, this work calls us to envision and work toward equity and liberation, while breaking out of silos.
The infographic, "How Oppressive Systems Connect" illustrates examples of how gender-based violence is driven by white supremacy, sexism, heterosexism, and capitalism. "How Justice Movements Connect" illustrates examples of how gender justice is supported by movements to build racial justice, economic justice, trans and queer liberation, and reproductive justice.
These resources are helpful for your prevention work, new staff orientation, volunteer training, board training, and other environments where you are exploring the many ways in which work to end sexual and intimate partner violence intersects with work to build racial justice, reproductive justice, economic justice, and trans and queer liberation.