This Issue Brief provides an overview of research findings about the impact of intimate partner violence on children in the home. Information is presented to help advocates, professionals,
researchers and community members identify and address the needs of these children. However, understanding the impact of intimate partner violence is just the first step. Once a child has been
asked to share his or her experience, it becomes a matter of necessity to have a strategy in place to help that child.
This FACT Issue Brief identifies forms of family violence and abuse faced by older adults and summarizes research on effective ways communities and households can identify and prevent further abuse. Promising strategies designed to protect the safety and security of the older adult population within the Commonwealth of Virginia are highlighted.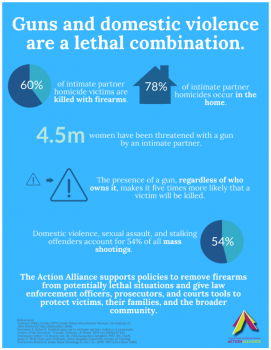 The Action Alliance supports policies to remove firearms from potentially lethal situations and give law enforcement officers, prosecutors, and courts tools to effectively enforce measures to protect victims, their families, and the broader community. This infographic highlights some of the ways that firearm-based violence and domestic violence intersect featuring statistical data from multiple resources.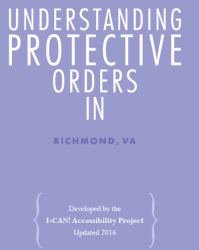 The I-CAN! Understanding Protective Orders in Richmond, Virginia Booklet describes what a protective order is, the types of protective orders, the process of obtaining a protective order in Richmond, Virginia, tips about going to court, what to do after you receive a protective order, and various resources.
Attached is (1) the English version of the booklet, (2) a large print English version of the booklet, and (3) a Spanish version of the booklet.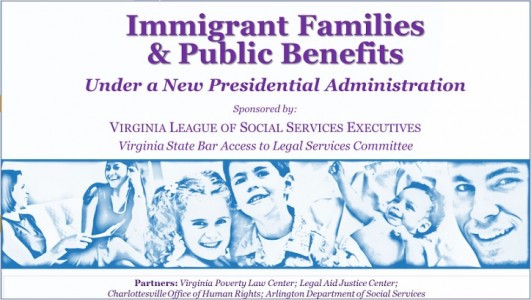 Recent changes to immigration enforcement have resulted in social services agencies across Virginia reporting decreased numbers of immigrant families requesting access to services. Some immigrant families even seek to withdraw their U.S.-born children from crucial benefits for which they are eligible due to fear of immigration enforcement. This PDF document is from a webinar given on March 31, 2017, to discuss changes in the immigration enforcement landscape, its impact on immigrant communities, immigrants' eligibility for public benefits for themselves and their U.S.-born children and strategies to encourage immigrant families to continue to access public benefits for which they are eligible. The webinar was sponsored by the Virginia League of Social Services Executives, Legal Aid Justice Center, Virginia Poverty Law Center and the Virginia State Bar Access to Justice Committee.