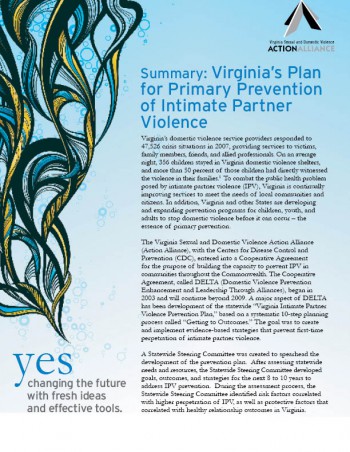 The Virginia Sexual and Domestic Violence Action Alliance (Action Alliance), with the Centers for Disease Control and Prevention (CDC), entered into a Cooperative Agreement for the purpose of building capacity to prevent IPV in communities throughout the Commonwealth. The Cooperative Agreement, called DELTA (Domestic Violence Prevention Enhancement and Leadership Through Alliances), began in 2003 and continues today.
A major aspect of DELTA has been development of the statewide "Virginia Intimate Partner Violence Prevention Plan," based on a systematic 10-step planning process called "Getting to Outcomes." The goal was to create and implement evidence-based strategies that prevent first-time perpetration of intimate partner violence. This document summarizes the 5 goals developed during the planning process.
Published by Virginia Sexual & Domestic Violence Action Alliance. 2009.
4 pages.
Technology has a major impact on survivors of abuse. It can be used by a survivor to access help, to strategically maintain safety and privacy, and to remain connected to family and friends. It is often used to prove guilt and hold offenders accountable. Yet, technology, in its various forms, is also misused by abusers and perpetrators in crimes of domestic violence, sexual assault, stalking, and trafficking. The National Network to End Domestic Violence has developed Technology Safety Planning with Survivors to address how technology impacts the safety, privacy, accessibility, and civil rights of victims.
(as presented by NNEDV and the Safety Net team on 10/18/2016)
HIPAA, VAWA, VOCA, and FVPSA all require protection of identifying information. But are they the same? Which is more protective? Is there a "gold standard" to follow? NNEDV's Safety Net team took an indepth look at the similarities and differences between privacy standards set by HIPAA and those required by VAWA, FVPSA, and VOCA, offering expert insight into how to check if programs are actually following appropriate and applicable privacy laws regarding client information and data, as well as clarity about the underlying goals of these federal laws and understand how they differ.
If you were unable to attend this webinar, the recorded version of the webinar is available at https://youtu.be/qCJagGiGiMQ.
Additional materials, handouts, and templates that you can adapt (such a model release forms and MOUs) can be found in their Confidentiality Toolkit at www.techsafety.org/confidentiality.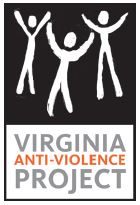 Report of a 10-month study completead in 2008 and conducted by the Virginia Anti-Violence Project. The study included a survey of 1,000 individuals who identified as LGBTQ Virginians and addressed their experiences of sexual, intimate partner, and hate violence. They study also included a questionnaire for sexual and domestic violence agencies and LGBTQ service organizations regarding the services they offer LGBTQ individuals experiencing violence. 59 pages, includes survey and questionnaire.
Title IX of the Education Amendments of 1972 ("Title IX") is a Federal civil rights law prohibiting discrimination on the basis of sex in any federally funded education program or activity. While public focus lately has been placed on better implementing Title IX at colleges and universities, very little has been dedicated to how the law should work in secondary schools. This document addresses the need for efficient Title IX implementation in secondary schools.