The 2015 U.S. Transgender Survey (USTS) is the largest survey examining the experiences of transgender people in the United States, with 27,715 respondents nationwide. The USTS was conducted by the National Center for Transgender Equality in the summer of 2015. Of respondents in the USTS, 723 were Virginia residents.1 This report discusses the experiences of respondents living in Virginia.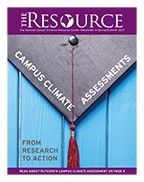 The Spring/Summer 2017 edition of The Resource includes the following stories:
Rutgers University's campus climate assessment process
The new multimedia campaign #LoveWITHAccountability for child incest and sexual abuse survivors of African descent
The uSafeNH app that provides information about services and support for survivors in New Hampshire
The basics of evaluating prevention work through social media from the Michigan Public Health Institute
The Raliance media summit and RALLYs awards
Also included is a look at RESTORE Sexual Assault Service's prevention work in New York, a spotlight on Iowa's service transition, and four resources from the library that might interest you.
2018 LEGISLATIVE ADVOCACY GUIDE
The Virginia General Assembly (GA) is back for the 2018 legislative session! The Action Alliance invites you to join us February 5th through February 9th to #AmplifySurvivorVoices and advocate for policies that empower survivors and prevent violence statewide! Hundreds of bills are introduced to the General Assembly (GA) Session each year, but few of them ever get signed into law. Grassroots legislative advocacy work is an opportunity for everyday people and concerned citizens to raise awareness of issues impacting Virginians – legislators listen!
Traditional legislative advocacy work means going in person to meet with lawmakers and their staff. However, not everyone has the time or means to do so, and that's where virtual legislative advocacy, or virtual lobbying, comes in. Virtual legislative advocacy consists of any engagement with representatives in the GA through use of technology: phone calls, email, social media, and even good-old-fashioned letter writing. This guide is designed to help make engaging your legislators over technology as easy as possible.
Here are the four main sections:
1. PREPARATION: find out who your representatives are and what you're going to say.
2. MAKING CONTACT: explore all the different ways you can engage with your representatives and decide on the best strategy or set of strategies for engagement.
3. IN-PERSON VISITS WITH YOUR LEGISLATORS: if you're planning a visit, this section includes helpful tips, addresses, cheat sheets and more for your legislative visits!
4. FOLLOWING UP: Let us know how it went, share feedback, and help us thank supporters.
Click here to see the full guide.
Asian and Pacific Islander domestic violence agencies have built an extraordinarily rich tapestry of approaches where advocates do everything it takes to mitigate barriers, challenge patriarchy, strategize to build safety and well-being, and redefine culture.
The A-Z Advocacy Model is anchored by five principles that analyze gendered and racialized cultural contexts, confront root causes, and engage in systems change and cultural transformation; all the while, holding women's equality and empowerment central to community well-being:
1. An analysis of intersectionality and patriarchy deepens the understanding of root causes and becomes fundamental to program design.
2. Culturally-specific programming means designing services that address ethnic and linguistic diversity within and among Asians and Pacific Islanders.
3. Survivor-centered advocacy is based on a culturally-specific analysis and definition of domestic and family violence.
4. Integrating an analysis of, and responses to, gender-based violence when working with API survivors of domestic violence became evidence-informed practice.
5. Engaging in systems advocacy builds gateways to services through collaboration, policy advocacy, and research.
This handout was provided by Santa Sorenson, from the Richmond Peace Education Center, at the workshop titled "Conflict Resolution" at the Virginia Department of Social Services Office of Family Violence Promising Practices conference on September 16, 2013.