How the Earth Didn't Fly Into the Sun: Missouri's Project to Reduce Rules in Domestic Violence Shelters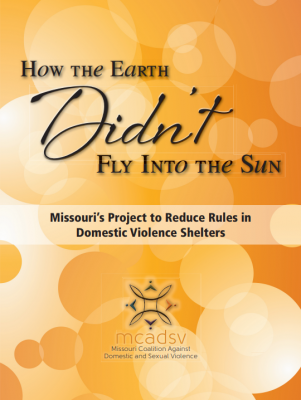 This guide is part of a shared goal between NRCDV, state coalitions, and individual programs to find a better way to welcome women and other domestic violence victims -- many of whom had every aspect of life controlled by their partners -- into shelter where they could experience autonomy despite the constraints of a communal living environment. The concept and conflict of having rules in shelter has been repeatedly recycled and re-silenced throughout the movement to end violence against women. This manual tells how Missouri's project became a living laboratory to answer the question, "What would happen if there weren't rules?"
This first-hand account of Missouri's project to reduce rules in domestic violence shelters offers practical tips for other state Coalitions, programs, and individual advocates interested in this approach. It includes the history of the project, examples of common challenges and successes, and logistics of implementation. Surveys, suggestions and the philosophy the Missouri programs followed are also in this ÒHow-toÓ guide, funded by the National Resource Center on Domestic Violence (NRCDV).
* Access the recording of a lively BlogTalkRadio show where the Missouri Coalition Against Domestic and Sexual Violence (MCADSV) discusses this guide - How the Earth Didn't Fly Into the Sun: Missouri's Project to Reduce Rules in Domestic Violence Shelters [23:08]
Files
Related Resources