Journal: Revolution: Responding to Sexual Violence in Virginia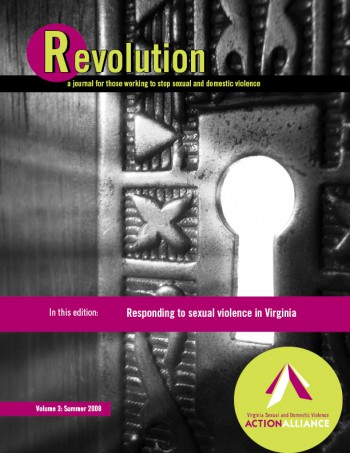 A journal for professionals working with victims/survivors of sexual and domestic violence. Volume 3 addresses Virginia's response to sexual violoence, and includes the following topics: A Feminist History of Rape; Long-Term Health Consequences of Child Sexual Abuse; Sexual Assault Response Teams--A Model Protocol; Getting a Sexual Assault Response Team Off the Ground; How Local Immigration Enforcement Threatens Immigrant Survivors; Sexual Violence Policy in Virginia--A Brief History; The Transformative Power of Art.
Volume 3; Summer 2008.
Published by Virginia Sexual & Domestic VIolence Action Alliance.
24 pages.
Files
Related Resources