TOD@S (Transforming Ourselves through Dialogue, Organizing, and Services) is an interagency collaboration between The Hispanic Black Gay Coalition, The Violence Recovery Program at Fenway Health, The Network / La Red, and Renewal House (a program of the Unitarian Universalist Urban Ministry) in Boston, Massachusetts. Their mission is to improve and increase access to intervention and prevention services for Black and Latin@ lesbian, gay, bisexual, transgender, and queer (LGBTQ) people affected by partner abuse.
They have created a Community Needs Assessment and Action Plan as well as a training for community service providers.
In 2004, the Virginia General Assembly passed legislation stating that "the Department of Criminal Justice Services shall promote the use of local and regional sexual assault response team policy and protocol, established pursuant to subdivision 46 of §9.1-102 of the Code of Virginia, as an integral part of an effective coordinated community response to sexual assault" (Virginia Acts of Assembly, Chapter 980). The Code directs that DCJS shall "establish training standards and publish a model policy and protocols for local and regional sexual assault response teams" (§9.1-102). In accordance with these legislative mandates, DCJS developed these guidelines based on review of existing state and national protocols and best practices and consultations with local Virginia sexual assault response team members. This model protocol focuses on adult sexual assault.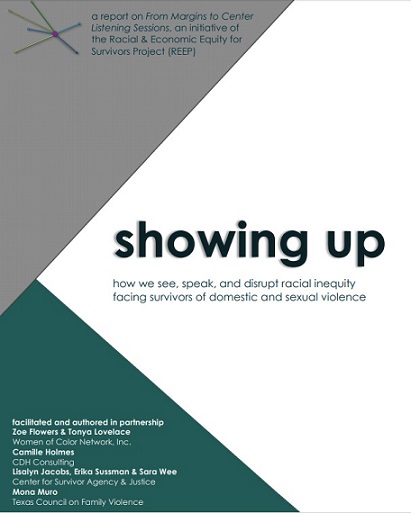 (as originally posted by the Center for Survivor Agency & Justice)
In September 2017, REEP facilitated seven From Margins to Center Listening Sessions to facilitate dialogue across the field on racial and economic equity for survivors. This report dialogues-back with the community that contributed to the From Margins to Center Listening Sessions. It shares themes and issues from Listening Session conversations via text, graphics and illustrations in order to aid in self-reflection, challenge dominant narratives, support improved data collection and analysis, and to begin, continue, or advance conversations and work toward racial equity for domestic and sexual violence survivors and for all of us.
Published by Supreme Court of Virginia, Office of Executive Secretary April 2009.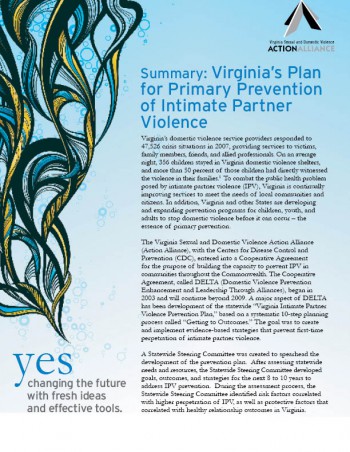 The Virginia Sexual and Domestic Violence Action Alliance (Action Alliance), with the Centers for Disease Control and Prevention (CDC), entered into a Cooperative Agreement for the purpose of building capacity to prevent IPV in communities throughout the Commonwealth. The Cooperative Agreement, called DELTA (Domestic Violence Prevention Enhancement and Leadership Through Alliances), began in 2003 and continues today.
A major aspect of DELTA has been development of the statewide "Virginia Intimate Partner Violence Prevention Plan," based on a systematic 10-step planning process called "Getting to Outcomes." The goal was to create and implement evidence-based strategies that prevent first-time perpetration of intimate partner violence. This document summarizes the 5 goals developed during the planning process.
Published by Virginia Sexual & Domestic Violence Action Alliance. 2009.
4 pages.