Rural dual/multi-service advocacy programs that are able to provide culturally and linguistically appropriate services to sexual violence survivors make services for all rural survivors more inclusive and accessible. Multilingual and bicultural advocates are an important part of rural agencies being able to provide these culturally and linguistically appropriate services. A multilingual advocate is someone who can understand and speak more than one language. Often, multilingual advocates are bicultural as well. A bicultural advocate is someone who balances the cultural attitudes and customs of two countries or ethnic groups, usually someone who has moved to the United States from another country or someone whose parents moved to the United States from another country. Advocacy programs often struggle to find, hire, and retain multilingual and bicultural rural advocates. This is why it is important to understand who these advocates are, where they come from, and how we can create a supportive work environment for them. This paper is intended for rural dual/multi-service agencies looking for suggestions on how they can support multilingual and bicultural rural advocates.
Final Report on domestic violence fatality review with recommendations from The Fatal Domestic Violence Workgroup.
Published: December, 2010
This report is a product of Virginia Department of Health's Office of the Chief Medical Examiner's Domestic Violence Fatality Review Project. For more information, visit: http://www.vdh.state.va.us/medexam/dvfr/index.htm#Intro
This contact list provides the current names and contact information of participating partners in the Virginia Community Defined Solutions partnership grant.
With funding from the U.S. Department of Justice, Office on Violence Against Women (OVW) (OVW grant 2012-TA-AX-K003), the American Institutes for Research's National Center on Family Homelessness has completed a comprehensive review of transitional housing for survivors of domestic and sexual violence. The report and accompanying media, released in early 2017, look closely at the programs, the diverse individuals and families served, the varied operating environments, the types of challenges faced, and the range of approaches taken.
The report is built around interview data from in-depth conversations with more than 120 current and former OVW grantees. In addition to hundreds of comments from providers, each of the report's 12 chapters, on different aspects of the subject, contains information from and links to pertinent literature and online resources. As a whole, the report provides a robust and detailed snapshot of transitional housing programs, illustrating the essential role they play for survivors, and the importance of a survivor-centered, trauma-informed approach that reflects local conditions. The report and accompanying webinars, podcasts, and broadsides can be accessed at http://www.air.org/THforSurvivors/.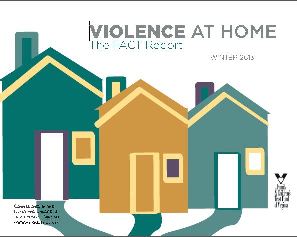 The FACT Report presents three types of indicators to communicate factors relevant to family violence in Virginia:
community context in which family violence develops;
scope of family violence experienced by individuals; and
capacity of the community to respond to family violence.