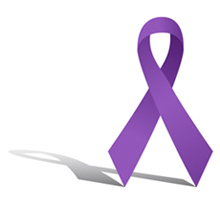 Helping communities save lives and improve systems of public health and safety
Brochure addressing the following questions: What is fatality review? What are the benefits of fatality review? How is a fatality review team formed?
Published by: Virginia Department of Health, Office of the Chief Medical Examiner. 2010. 2 pages. (Document title on CD: DVFRT brochure)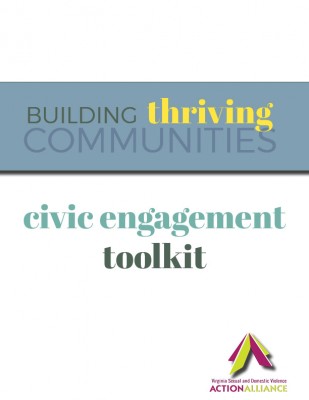 A toolkit to help unlock the power of individuals and communities to create a world in which all of us thrive.
The Building Thriving Communities: Civic Engagement Toolkit seeks to transform Virginia communities by increasing public participation in voting for candidates who align with their values and other means of civic engagement that promotes healthy futures.
Download the entire toolkit all at once to find all of these resources (below) designed to support you in increasing community engagement with voting, the formation of public policy, and becoming active participants in democracy. Or you may download the handouts and guides separately.
The core component of the campaign is to build authentic connections between people, across differences, and around issues that make communities healthy, safe, just, and compassionate for all.
This is a long-term campaign that draws upon the strength of the movements to end domestic and sexual violence: each person having a voice that is valued and respected, sharing stories as a tool for building understanding and mobilizing action, and empowering individuals and groups to bring about change in their own lives, in communities, and in the world.
The toolkit provides educational resources on civic engagement and strategies to engage communities and candidates.
Toolkit features:
* guide for facilitating community conversations around civic engagement;
* questions for candidates to build trauma-informed communities and systems;
* legislative advocacy guide;
* voting basics handout;
* print-ready posters to encourage voting for a #radicallyhopefulfuture;
* print-ready handout about why voting matters.
This is an assessment tool to evaluate the policy and practice for effective process and enforcement of protective orders in a particular jurisdiction. This tool is intended to be utilized by coordinated community response teams to assess the local community response.
The purpose of the study was to examine the awareness and experience of rural community professionals in Virginia dealing with intimate partner violence (IPV) in later life. The reporting of IPV decreases as a survivor ages, but the problem does not go away. Unfortunately, incidences of IPV in older adults are often lumped into the broader category of elder abuse. This means that most community services are focused on alleviating abuse from adult children and caregivers.
The current article found: (1) many rural community professionals likely to interact with older survivors were not aware of IPV issues when the survivor first presents; (2) social norms and cultural values played a large role in viewing IPV among older survivors; and (3) collaboration across agencies usually occurred because of legal mandates and healthcare emergencies for the older survivors.
Published: 2015 in the Journal of Elder Abuse and Neglect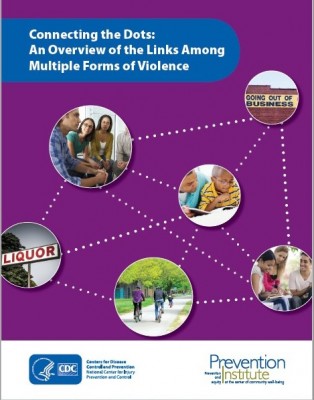 The purpose of this brief is to share research on the connections between different forms of violence
and describe how these connections affect communities. It is our hope that this information, combined
with your own practical experience, will help practitioners like you to think strategically and creatively
about how you can:

1. Prevent all types of violence from occurring in the first place.

2. Coordinate and integrate responses to violence in a way that recognizes these connections and
considers the individual in the context of their home environment, neighborhood, and larger
community.