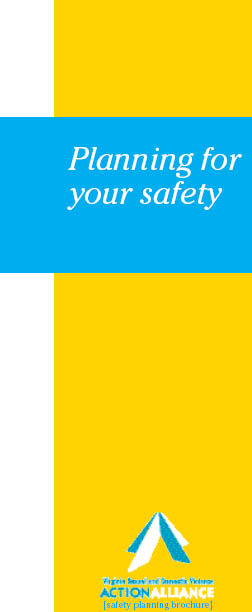 How to plan for your safety whether currently living together or apart from an abusive partner.
English and Spanish versions.
Published by Virginia Sexual & Domestic Violence Action Alliance.
Quarter-fold brochure (legal-sized paper).
Order materials at the Action Alliance.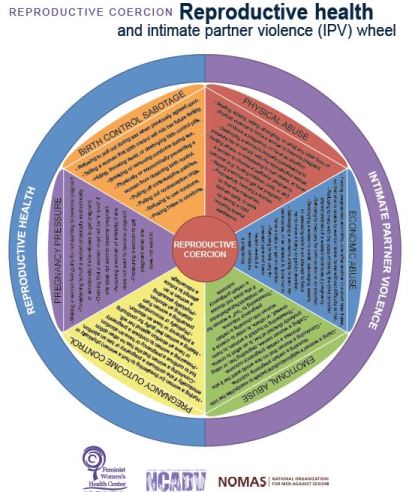 The Feminist Women's Health Center, The National Coalition Against Domestic Violence, and the National Organization for Men Against Sexism partnered together to create this toolkit in an effort to bridge the gap between the fields of reproductive health and domestic violence. This toolkit provides credible, unbiased information for women and individuals working in the domestic violence and reproductive health communities. It is designed to empower women to take control of their own reproductive health, and to help domestic violence and healthcare workers recognize the intersections between their fields and respond with practical solutions.

An important Notice to Persons Convicted of Misdemeanor Crimes of Domestic Violence This brochure was developed by the Department of Criminal Justice Services and the Office of the Executive Secretary, Supreme Court of Virginia Supreme Court of Virginia, Office of Executive Secretary.
The Universal Declaration of Human Rights (Article 16) states that "marriage shall be entered into only with the free and full consent of the intending spouses." As such, forced marriage is a clear violation of human rights.
The tactics used to force someone into marriage or to punish him or her for leaving a forced marriage are also human rights violations. The life of someone forced into marriage may consist of daily abuses, including rape, forced labor, domestic violence, and deprivation of the right to education, which can result in severe and long-term harm, including deteriorating medical and mental health.
The Tahirih Justice Institute's www.preventforcedmarriage.org website is an incredibly useful tool that serves as a resource library for service providers and includes over 10 recorded webinars on different topics related to providing services to forced marriage survivors and individuals at risk, as well as research papers, including the 2011 survey study on "Forced Marriage in Immigrant Communities in the United States", recommended books, and a news archive.
Also, check out the Forced Marriage 101 Webinar and the attached brochure and fact sheet to learn more about how forced marriage impacts individuals in the United States.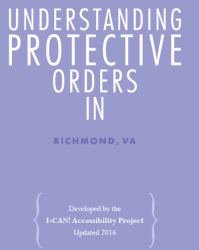 The I-CAN! Understanding Protective Orders in Richmond, Virginia Booklet describes what a protective order is, the types of protective orders, the process of obtaining a protective order in Richmond, Virginia, tips about going to court, what to do after you receive a protective order, and various resources.
Attached is (1) the English version of the booklet, (2) a large print English version of the booklet, and (3) a Spanish version of the booklet.