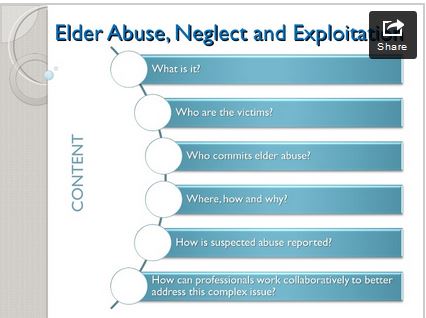 Who are the victims of elder abuse, neglect and exploitation? Does it surprise you to know that most elder mistreatment is committed, not by strangers, but by persons known to the victim, such as family members, caregivers and others in positions of trust? How is suspected abuse reported? And how can professionals work collaboratively to better address this complex issue?
These questions and more are addressed in this archived webinar and power point presentation titled "Elder Abuse, Neglect and Exploitation." Dr. Paula Kupstas and Lisa Furr of the Virginia Center on Aging presented on the topic; Dr. E. Ayn Welleford (Virginia Commission on Alzheimer's Disease and Related Disorders/Virginia Commonwealth University) moderated the discussion.
https://alzpossible.org/elder-abuse-neglect-and-exploitation-2/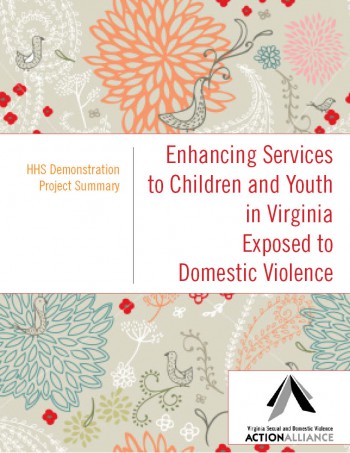 A report on a 2-year (2006-2008) demonstration project funded by the Family Violence Prevention and Services Program.
Published by Virginia Sexual & Domestic VIolence Action Alliance, 2009.
56 pages.
In 2009, the Code of Virginia was amended to mandate local sexual response teams (SARTs). As part of a national initiative to explore the impact of mandates on the formation, performance, and efficacy of SARTs, in 2016 the Virginia Department of Criminal Justice Services (DCJS) partnered with the Sexual Violence Justice Institute (SVJI) to explore the mandate's implications and gain insight into what SART ecosystems need to become strong and effective. The results of the project were documented in a report titled Cultivating SART Efficacy: Insights on the Impact of the Virginia Sexual Assault Response Team Mandate. The report highlights the ripple effects of the mandate's passing, lingering questions, and insights and ideas for resources to support SART growth, strength, and sustained success.
TO VIEW THE RECORDED WEBINAR, CLICK HERE. (You will be required to "register" before viewing the recording)
Topics addressed:
· Impact of the mandate on the growth of Virginia SARTs
· Impact of the mandate on SART efficacy
· Challenges of mandate implementation
· Other notable events that occurred as a result of the mandate
· 7 Elements of a healthy SART Ecosystem
· Considerations and resources for enhancing SARTs
For More Information, Contact:
Jennifer Kline
(804) 225-3456
Kristina Vadas
(804) 786-7802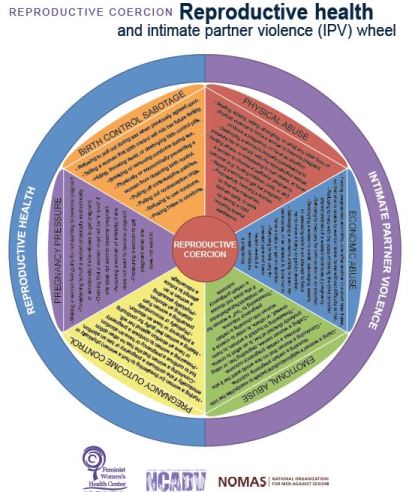 The Feminist Women's Health Center, The National Coalition Against Domestic Violence, and the National Organization for Men Against Sexism partnered together to create this toolkit in an effort to bridge the gap between the fields of reproductive health and domestic violence. This toolkit provides credible, unbiased information for women and individuals working in the domestic violence and reproductive health communities. It is designed to empower women to take control of their own reproductive health, and to help domestic violence and healthcare workers recognize the intersections between their fields and respond with practical solutions.

This Issue Brief provides an overview of research findings about the impact of intimate partner violence on children in the home. Information is presented to help advocates, professionals,
researchers and community members identify and address the needs of these children. However, understanding the impact of intimate partner violence is just the first step. Once a child has been
asked to share his or her experience, it becomes a matter of necessity to have a strategy in place to help that child.