This Power Point presentation was presented by Qullin Drew Musgrave and Liz Cascone from the Action Alliance at the Virginia Department of Social Services Office of Family Violence Promising Practices conference on September 16, 2013.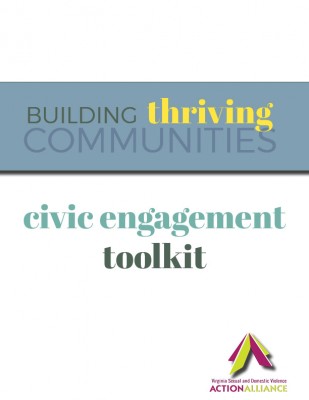 A toolkit to help unlock the power of individuals and communities to create a world in which all of us thrive.
The Building Thriving Communities: Civic Engagement Toolkit seeks to transform Virginia communities by increasing public participation in voting for candidates who align with their values and other means of civic engagement that promotes healthy futures.
Download the entire toolkit all at once to find all of these resources (below) designed to support you in increasing community engagement with voting, the formation of public policy, and becoming active participants in democracy. Or you may download the handouts and guides separately.
The core component of the campaign is to build authentic connections between people, across differences, and around issues that make communities healthy, safe, just, and compassionate for all.
This is a long-term campaign that draws upon the strength of the movements to end domestic and sexual violence: each person having a voice that is valued and respected, sharing stories as a tool for building understanding and mobilizing action, and empowering individuals and groups to bring about change in their own lives, in communities, and in the world.
The toolkit provides educational resources on civic engagement and strategies to engage communities and candidates.
Toolkit features:
* guide for facilitating community conversations around civic engagement;
* questions for candidates to build trauma-informed communities and systems;
* legislative advocacy guide;
* voting basics handout;
* print-ready posters to encourage voting for a #radicallyhopefulfuture;
* print-ready handout about why voting matters.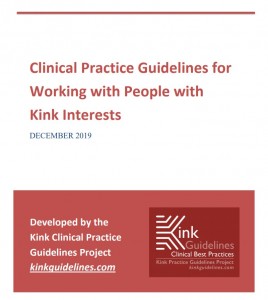 The lack of training and education about kink sexualities and the stigma attached to these interests have resulted in a lack of culturally competent treatment of this oppressed group. The gap calls for the clinical fields to address this unmet need as part of professional ethics and responsibility. Clinical practice guidelines assist healthcare practitioners by identifying high quality services and desirable professional practices. The Clinical Practice Guidelines for Working with People with Kink interests (hereafter referred to as "Kink Clinical Practice Guidelines") are intended to outline the knowledge, skills, and attitudes important for providing culturally competent care to the population of people who are involved in kink, both kink-identified patients and those involved in kink who do not adopt that identity. Clinical practice guidelines are recommendations, not mandatory requirements. The Kink Clinical Practice Guidelines are not standards of care, nor should they be used to exclude any healthcare provider from practicing in a particular area. The Kink Clinical Practice Guidelines are proposed to improve the care, and minimize harm to the kink community, an underserved
and vulnerable population.
Developed by the Kink Clinical Practice Guidelines Project, December 2019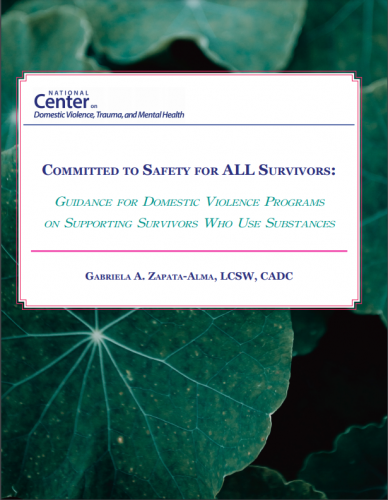 Domestic and sexual violence can have significant effects on one's health and mental health, including increased risk for substance use concerns. In addition to using substances in order to cope with experiences of violence, survivors of substance use coercion may also be coerced to use substances, face increased violence if they do not use substances, and have their attempts to engage in treatment and recovery sabotaged by an intimate partner or ex-partner. At the same time, many advocates feel unprepared to help survivors address concerns related to substance use and substance use coercion, resulting in increased barriers and risk of revictimization.
Committed to Safety for ALL Survivors assists programs and advocates in supporting survivors who use substances by providing practical strategies embedded within an accessible, culturally responsive, and trauma-informed (ACRTI) approach.
Download the guidance document below, or for additional resources, visit The National Center on Domestic Violence, Trauma, and Mental Health (NCDVTMH).
These tipsheets provide practical advice on creating trauma-informed services at domestic violence programs and working with survivors who are experiencing trauma symptoms and/or mental health conditions.
Recommended for domestic violence advocates:
A Trauma-Informed Approach to Domestic Violence Advocacy
Tips for Creating a Welcoming Environment
Tips for Enhancing Emotional Safety
Tips for Supporting Children and Youth Exposed to Domestic Violence: What You Might See and What You Can Do
Practical Tips for Increasing Access to Services
Tips for Discussing a Mental Health Referral with DV Survivors
Tips for Supporting Survivors with Reduced Energy
Tips for Making Connections with Survivors Experiencing Psychiatric Disabilities
A Trauma-Informed Approach to Employment Support: Tools for Practice