This reference list provides a compilation of reports, articles, websites and practical information for communities interested in addressing or learning more about the topic of children exposed to domestic violence and trauma-informed practices. Particular focus was placed on best or promising practices.
This article details how some abusers coerce their female partners into pregnancy as a tactic to exert control over their lives. Abusive acts related to this phenomenon include rape, using threatening or manipulative language, and interfering with birth control. The author argues that "[t]o move pregnancy coercion into the broader narrative of intimate partner abuse, women's experiences with reproductive coercion must be legitimized within our culture and our laws" (pp. 311-312).
Click here for the full article.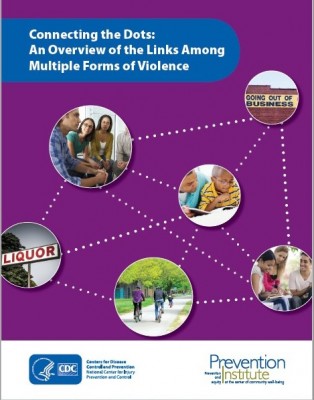 The purpose of this brief is to share research on the connections between different forms of violence
and describe how these connections affect communities. It is our hope that this information, combined
with your own practical experience, will help practitioners like you to think strategically and creatively
about how you can:

1. Prevent all types of violence from occurring in the first place.

2. Coordinate and integrate responses to violence in a way that recognizes these connections and
considers the individual in the context of their home environment, neighborhood, and larger
community.
These tipsheets provide practical advice on creating trauma-informed services at domestic violence programs and working with survivors who are experiencing trauma symptoms and/or mental health conditions.
Recommended for domestic violence advocates:
A Trauma-Informed Approach to Domestic Violence Advocacy
Tips for Creating a Welcoming Environment
Tips for Enhancing Emotional Safety
Tips for Supporting Children and Youth Exposed to Domestic Violence: What You Might See and What You Can Do
Practical Tips for Increasing Access to Services
Tips for Discussing a Mental Health Referral with DV Survivors
Tips for Supporting Survivors with Reduced Energy
Tips for Making Connections with Survivors Experiencing Psychiatric Disabilities
A Trauma-Informed Approach to Employment Support: Tools for Practice
The Virginia Department of Criminal Justice Services (DCJS) is pleased to release the report, Cultivating SART Efficacy: Insights on the Impact of the Virginia Sexual Assault Response Team Mandate. A collaborative effort between DCJS and the Sexual Violence Justice Institute at the Minnesota Coalition Against Sexual Assault (SVJI), the project explored the implications of the 2009 Code of Virginia legislation (§ 15.2-1627.4) that mandated the establishment of a multidisciplinary response to criminal sexual assault in each locality.
As you'll see in the report, numerous considerations are presented to further enhance Sexual Assault Response Team (SART) efforts in Virginia. In the coming months, DCJS will begin exploring these considerations through a variety of collaborative efforts, to include training, resource development, SART protocol revisions, and more. We look forward to helping SARTs throughout Virginia become more efficient, more effective, and better able to serve victims of sexual assault.
A summary of results from the full national project is also available here.