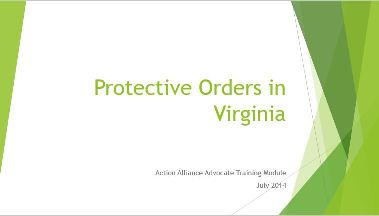 Virginia Sexual and Domestic Violence Action Alliance staff produced this power point presentation to train sexual and domestic violence advocates on the Virginia protective order process. This 31-slide presentation provides an overview of the different types of protective orders, describes how individuals can petition for them and how they work, and includes links to relevant VA Code sections.
House Bill 1395 (2008; Bell) required DCJS to submit a report on the status of implementation of §9.1-1301 to the Chairmen of the House and Senate Courts of Justice Committees by December 1, 2009. §9.1-1301 requires all law enforcement agencies to establish written policies and procedures regarding law enforcement officers' response to alleged sexual assaults. DCJS designed and conducted a survey of Virginia law enforcement agencies' sexual assault policies during July and August of 2009. This is the report on that study. Published by DCJS December 2009.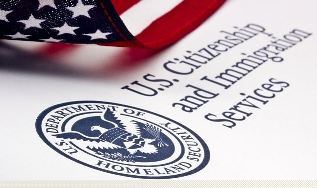 This Resource Guide was developed by the Department of Homeland Security Council on Combating Violence Against women and includes summaries and links to programs, initiatives, training, and services that can be leveraged by communities across the country to combat these types of crimes. For foreign victims, immigration relief stabilizes a victim's status in the U.S., which enables the victim to feel a level of security and report the crime. This Resource Guide provides an overview of immigration relief and support for victims.

TOD@S (Transforming Ourselves through Dialogue, Organizing, and Services) is an interagency collaboration between The Hispanic Black Gay Coalition, The Violence Recovery Program at Fenway Health, The Network / La Red, and Renewal House (a program of the Unitarian Universalist Urban Ministry) in Boston, Massachusetts. Their mission is to improve and increase access to intervention and prevention services for Black and Latin@ lesbian, gay, bisexual, transgender, and queer (LGBTQ) people affected by partner abuse.
They have created a Community Needs Assessment and Action Plan as well as a training for community service providers.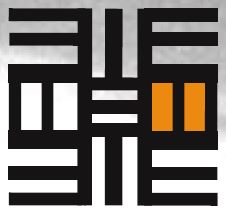 The Safe Return Initiative focuses on strengthening domestic violence services for African American women and their children when they are facing the return of an intimate partner from prison. It does this by building culturally specific technical capacity within and cooperation among justice institutions and community-based and faith-based organizations. Its goals are to keep women and their children safe and improve the odds of successful reentry by offering peer-based learning, training, information sharing, and on-site assistance designed to help criminal justice and community-based
organizations better serve African Americans dealing with prisoner reentry.