These documents are samples of supplemental report forms that law enforcement agencies can use when documenting domestic violence and/or strangulation incidents. These forms are samples and intended to provide a framework that and local law enforcement agencies and community teams can adapt for their own use.
In 2004, the Virginia General Assembly passed legislation stating that "the Department of Criminal Justice Services shall promote the use of local and regional sexual assault response team policy and protocol, established pursuant to subdivision 46 of §9.1-102 of the Code of Virginia, as an integral part of an effective coordinated community response to sexual assault" (Virginia Acts of Assembly, Chapter 980). The Code directs that DCJS shall "establish training standards and publish a model policy and protocols for local and regional sexual assault response teams" (§9.1-102). In accordance with these legislative mandates, DCJS developed these guidelines based on review of existing state and national protocols and best practices and consultations with local Virginia sexual assault response team members. This model protocol focuses on adult sexual assault.

This four page document outlines specific information on the broad range of offenses perpetrated against people age 60 and beyond, and discusses how advocates can respond to the special needs of older sexual violence victims.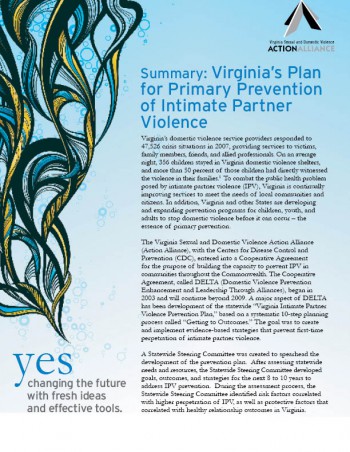 The Virginia Sexual and Domestic Violence Action Alliance (Action Alliance), with the Centers for Disease Control and Prevention (CDC), entered into a Cooperative Agreement for the purpose of building capacity to prevent IPV in communities throughout the Commonwealth. The Cooperative Agreement, called DELTA (Domestic Violence Prevention Enhancement and Leadership Through Alliances), began in 2003 and continues today.
A major aspect of DELTA has been development of the statewide "Virginia Intimate Partner Violence Prevention Plan," based on a systematic 10-step planning process called "Getting to Outcomes." The goal was to create and implement evidence-based strategies that prevent first-time perpetration of intimate partner violence. This document summarizes the 5 goals developed during the planning process.
Published by Virginia Sexual & Domestic Violence Action Alliance. 2009.
4 pages.
Safety is a primary concern for domestic violence shelters. New technology has created opportunities for safety to be compromised. However, technology also provides many ways for all of us to communicate and stay in contact with our family, friends, and others in our social network and has become part of our everyday lives. This document offers domestic violence advocates guidance on integrating discussions about technology into their safety planning with residents of the domestic violence shelter, as well as with survivors receiving non-residential services.