Technology has a major impact on survivors of abuse. It can be used by a survivor to access help, to strategically maintain safety and privacy, and to remain connected to family and friends. It is often used to prove guilt and hold offenders accountable. Yet, technology, in its various forms, is also misused by abusers and perpetrators in crimes of domestic violence, sexual assault, stalking, and trafficking. The National Network to End Domestic Violence has developed Technology Safety Planning with Survivors to address how technology impacts the safety, privacy, accessibility, and civil rights of victims.
While the global maternal mortality rate (MMR) decreased by 36.6 percent between 2000 and 2015, the U.S. MMR increased by 16.6 percent. The United States was one of six countries and the only developed country to see an increase in maternal mortality during this time period.
To learn more, check out the infographic below designed by Bradley University's online Master of Science in Nursing program.

Black women look to their spiritual roots for solace and relief when coping with intimate partner violence. This article explores the roles of the Black church in addressing intimate partner violence. It offers suggestions for clergy on how they can facilitate healing for survivors and address perpetrators. It concludes with a set of recommendations for domestic violence and sexual assault service providers on how they can incorporate spiritual elements into their programs.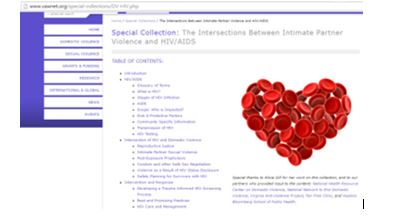 The National Online Resource Center on Violence Against Women has compiled a Special Collections series on the Intersections Between Intimate Partner Violence and HIV/AIDS. The Special Collection series includes terms and definitions, impact on at-risk populations, where to get tested, and the various articles discussing the intersection of intimate partner violence and HIV/AIDS.
http://www.vawnet.org/special-collections/DV-HIV.php
This article provides an overview of recent research studies looking at the relationship between intimate partner violence (IPV) and substance use. In addition to summarizing research findings, this article also takes a look at strengths and weaknesses of the existing research studying IPV and substance use. The article also provides recommendations for moving forward and next steps.
Published: 2015
The article is a part of the work of the National Center on Domestic Violence, Trauma & Mental Health. To find out more about the work of the NCDVTMH visit their website at www.nationalcenterdvtraumamh.org.