The National Center on Elder Abuse (NCEA) has collected all of its products (reports, webinars, podcasts, databases, etc.) in one location for easy access and availability.
Click the following links for more information on:
Elder Rights Resources - Prevention of elder abuse, legal assistance, world elder abuse awareness, and more
NCEA publications - These include information on LGBT elder concerns, financial abuse and exploitation, culturally-specifc resources, persons with disabilities, and more
Virginia-specifc state resources for elders
Supports and Tools for Elder Abuse Prevention
The Reframing Elder Abuse Project - a communications strategy and toolkit that reimagines our cultural dialogue on elder abuse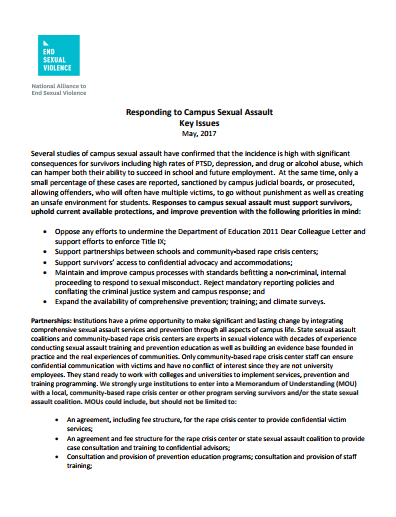 Several studies of campus sexual assault have confirmed that the incidence is high with significant consequences for survivors including high rates of PTSD, depression, and drug or alcohol abuse, which can hamper both their ability to succeed in school and future employment. At the same time, only a small percentage of these cases are reported, sanctioned by campus judicial boards, or prosecuted, allowing offenders, who will often have multiple victims, to go without punishment as well as creating an unsafe environment for students. Responses to campus sexual assault must support survivors, uphold current available protections, and improve upon prevention.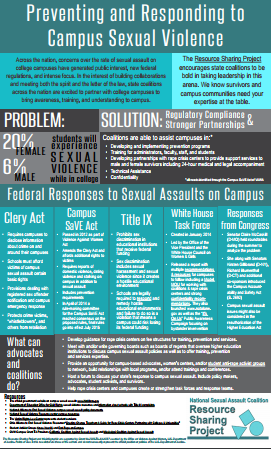 In this ReShape, the Resource Sharing Project created an infographic for coalitions about federal rules and regulations around campus sexual assault.
Title IX of the Education Amendments of 1972 ("Title IX") is a Federal civil rights law prohibiting discrimination on the basis of sex in any federally funded education program or activity. While public focus lately has been placed on better implementing Title IX at colleges and universities, very little has been dedicated to how the law should work in secondary schools. This document addresses the need for efficient Title IX implementation in secondary schools.

This brochure is for trans people who are interested in learning more about their birth control options. The brochure includes questions for providers, things to consider, and frequently asked questions about fertility and transitioning.
Published by the Virginia Sexual & Domestic Violence Action Alliance and the Virginia League for Planned Parenthood.
Tri-fold brochure.