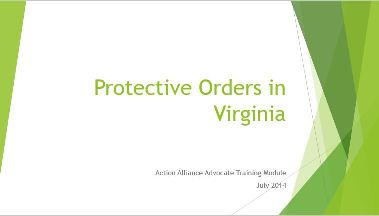 Virginia Sexual and Domestic Violence Action Alliance staff produced this power point presentation to train sexual and domestic violence advocates on the Virginia protective order process. This 31-slide presentation provides an overview of the different types of protective orders, describes how individuals can petition for them and how they work, and includes links to relevant VA Code sections.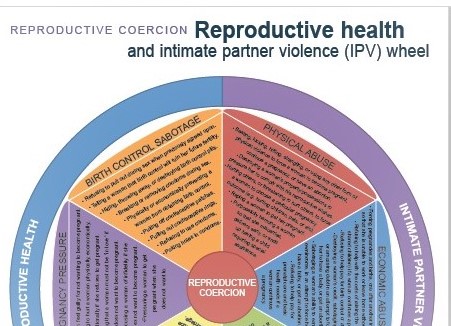 Reproductive Health and Intimate Partner Violence Wheel provides definitions and examples of reproductive coercion and intimate partner violence. The wheel can be used as a training tool for advocates and service providers, as well as a supportive and enlightening resource for survivors.
This video explains elements of intimate partner abuse and the resources available for support in American Sign Language to survivors in the Commonwealth.
This video was created by the Ensuring Accessibility to All Survivors project (an expansion of the I-CAN! Virginia project) in collaboration with the Partnership for People with Disabilities, a University Center for Excellence in Developmental Disabilities at Virginia Commonwealth University, and the School of Social Work at Virginia Commonwealth University.
To view the video, click here: https://youtu.be/OM4LxKmziIg
The National Center on Elder Abuse (NCEA) has collected all of its products (reports, webinars, podcasts, databases, etc.) in one location for easy access and availability.
Click the following links for more information on:
Elder Rights Resources - Prevention of elder abuse, legal assistance, world elder abuse awareness, and more
NCEA publications - These include information on LGBT elder concerns, financial abuse and exploitation, culturally-specifc resources, persons with disabilities, and more
Virginia-specifc state resources for elders
Supports and Tools for Elder Abuse Prevention
The Reframing Elder Abuse Project - a communications strategy and toolkit that reimagines our cultural dialogue on elder abuse

This four page document outlines specific information on the broad range of offenses perpetrated against people age 60 and beyond, and discusses how advocates can respond to the special needs of older sexual violence victims.