Safety is a primary concern for domestic violence shelters. New technology has created opportunities for safety to be compromised. However, technology also provides many ways for all of us to communicate and stay in contact with our family, friends, and others in our social network and has become part of our everyday lives. This document offers domestic violence advocates guidance on integrating discussions about technology into their safety planning with residents of the domestic violence shelter, as well as with survivors receiving non-residential services.
Technology has a major impact on survivors of abuse. It can be used by a survivor to access help, to strategically maintain safety and privacy, and to remain connected to family and friends. It is often used to prove guilt and hold offenders accountable. Yet, technology, in its various forms, is also misused by abusers and perpetrators in crimes of domestic violence, sexual assault, stalking, and trafficking. The National Network to End Domestic Violence has developed Technology Safety Planning with Survivors to address how technology impacts the safety, privacy, accessibility, and civil rights of victims.

This brochure is for trans people who are interested in learning more about their birth control options. The brochure includes questions for providers, things to consider, and frequently asked questions about fertility and transitioning.
Published by the Virginia Sexual & Domestic Violence Action Alliance and the Virginia League for Planned Parenthood.
Tri-fold brochure.
This VAWnet webinar provides information on the impact of trauma in pregnancy and childbirth, and outlines how a partnership between advocates and birth workers in the community may be of benefit to pregnant survivors of domestic or sexual violence. Together, victim advocacy and doula skills can set in motion a new beginning for healthier relationships between survivors of abuse and their newborns.
http://www.vawnet.org/summary.php?doc_id=4511&find_type=web_desc_TT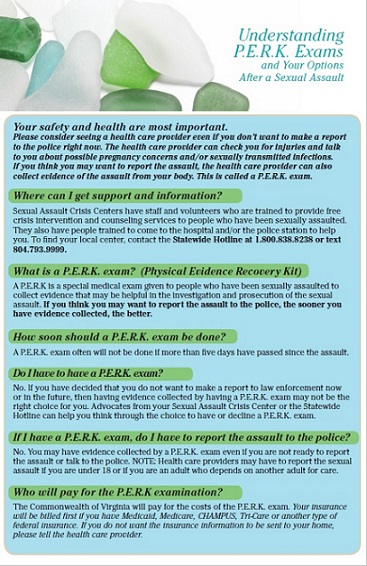 A palm card for survivors of sexual assault that provides information on P.E.R.K. exams, including "What is a P.E.R.K.?", "Do I have to have a P.E.R.K.?", "Who will pay for the exam?", "What do I need to know if I am considering having a P.E.R.K.?"
Order brochures and other materials from the Action Alliance.
"?"