This brochure is for trans people who are interested in learning more about their birth control options. The brochure includes questions for providers, things to consider, and frequently asked questions about fertility and transitioning.
Published by the Virginia Sexual & Domestic Violence Action Alliance and the Virginia League for Planned Parenthood.
Tri-fold brochure.
This VAWnet webinar provides information on the impact of trauma in pregnancy and childbirth, and outlines how a partnership between advocates and birth workers in the community may be of benefit to pregnant survivors of domestic or sexual violence. Together, victim advocacy and doula skills can set in motion a new beginning for healthier relationships between survivors of abuse and their newborns.
http://www.vawnet.org/summary.php?doc_id=4511&find_type=web_desc_TT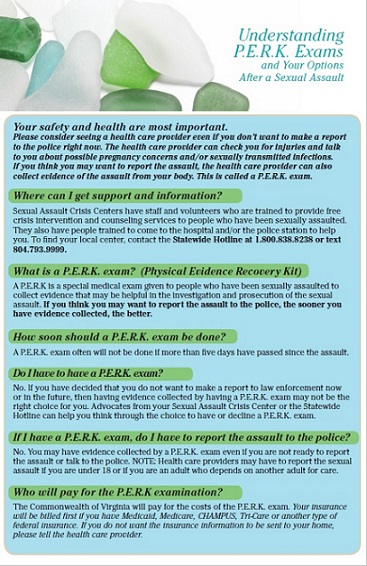 A palm card for survivors of sexual assault that provides information on P.E.R.K. exams, including "What is a P.E.R.K.?", "Do I have to have a P.E.R.K.?", "Who will pay for the exam?", "What do I need to know if I am considering having a P.E.R.K.?"
Order brochures and other materials from the Action Alliance.
"?"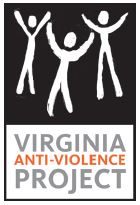 This guide was created to serve as a resource for people working with LGBTQ Virginians who might not be aware of the extent of community based resources in their areas. Includes medical, legal, community, and religious/faith resources by region (central, eastern, southern/southwest, norther, northwest, and state). Published by the Virginia Anti-Violence Project.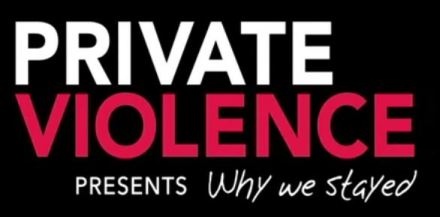 This 7-minute video is provided free by the creators of Private Violence, a feature-length documentary that explores domestic violence in the U.S. This short video features survivors Bev Gooden, Kit Gruelle, Leslie Morgan Steiner and Mildred Muhammad. It is perfect for engaging discussion via social media and in any classroom, volunteer training, survivors' group, community task force meeting, school, legal or health care setting. Click here to view the video via YouTube.